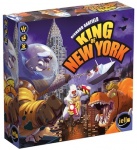 Iello Games has released updated information on its highly anticipated sequel to the hit
King of Tokyo
board game announced earlier this year (see "
'King of New York,' More
").
Designed by Richard Garfield (
Magic: The Gathering
), who also designed
King of Tokyo
, the new stand-alone release moves the mega-monster fight to the Big Apple and introduces new game dynamics (and new monsters), while keeping the core ideas the same. There are buildings to stomp, military units to destroy, a chance to become a celebrity superstar, and the option to become the defender of the city. Of course, nothing matters more than controlling the island of Manhattan.
The box contains 66 cards, 46 Effect tokens, 45 Building/Unit tiles, 6 Monster boards, 6 Monster cardboard figures and their plastic stands, approximately 50 Energy cubes, 8 dice, a game board and a rulebook. The game is for 2-6 players, ages 8 and up, and plays in 40 minutes. MSRP is $49.99.
King of Tokyo
was the #3 on
ICv2
's most recent Top 10 Board Game Chart (see "
Top 10 Board Games--Fall 2013
").