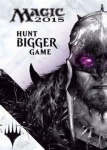 Hasbro CEO Brian Goldner, in a conference call with investment analysts, discussed the 12% decline in game sales in the second quarter (see "
'Magic,' 'Duel Masters' Sales Drops Punish Hasbro's Bottom Line
"), noting "
Magic: The Gathering
declined low single digits and it's flat year-to-date." But Goldner also noted that
M:TG
sales grew internationally in Q2, even though they declined in North America.
Goldner also told the analysts: "As we discussed before,
Magic
is release driven and over the longer term poised for growth, as we continue to invest in the brand and technology development to enable global
Magic
players and new recruits to enjoy playing across digital and analog format. Last month we released
Magic: The Gathering--Conspiracy
and that has led to increase casual play activity in stores. In addition, fans are eagerly anticipating the released this month of the
Magic 2015 Core Set
, which should position us well for the year."
Because trading card games are such high margin items for the manufacturer, declines in sales have a larger effect on the bottom line than those of higher-production cost, lower margin product lines.