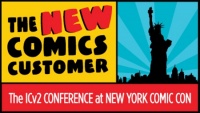 An ICv2 Release
. ICv2 has announced that its 2014 Conference, held in conjunction with New York Comic Con, will be called "The New Comics Customer," and will focus on the dramatic changes in the comics audience that are transforming the business.
"The audience for comics is changing rapidly, in ways that present the greatest opportunities for the medium since the 50s," ICv2 CEO Milton Griepp said of the topic. "New channels, formats, and content are reaching new customers, and the phenomenon appears to be growing by the day. This year's conference will look at these trends and where they're taking the business, with speakers from the forefront of the change."
The ICv2 Conference: The New Comics Customer will be held on the eve of New York Comic Con, Wednesday afternoon, October 8th, at the Jacob Javits Convention Center in New York City.
The Conference
To fit this unique time in the comics business, the topics discussed will also be unique, including the success stories of companies and people that have found ways to capitalize on the changing comics audience; the roles that new ways of getting comics to customers, including digital, are playing in this phenomenon; how the explosion in comic-related events plays into the trend; and what the people on the front lines of customer interaction are seeing.
The ICv2 Conference gives you the opportunity to meet, learn from, and interact with the leaders of the business.
Time and Place
The ICv2 Conference: The New Comics Customer will take place at the Jacob Javits Convention Center, from 1:00 to 6:00 p.m. on Wednesday afternoon, October 8.
Who Should Attend
•Comics and graphic novel publishers
•Digital executives
•Writers and artists
•Retailers and wholesalers
•Librarians and educators
•Producers, agents, and managers
•Licensees, licensors, and marketers
•Con directors and other fandom event organizers
Conference Sessions
Here are the sessions at the ICv2 Conference: The New Comics Customer. Speakers are being added frequently; bookmark this page.
Click here
for more information on the speakers at the ICv2 Conference.
ICv2 White Paper
A highlight of the Conference each year, the 2014 ICv2 White Paper will concentrate on the New Comics Customer, and break down the data available from all sources on this growing segment of the market.
Presented by Milton Griepp, CEO, ICv2
The Con Explosion
The rapidly expanding con scene is an important part of the changing audience for comics, a place where potential new customers are mingling with more committed fans, and the opportunities are great. Who are these new attendees, and what does it mean for the medium? Our speakers have data and personal experience to help us find the answers to these questions.
Christine Bohle, Sr. Category Marketing Manager, Eventbrite
Patrick Bradley, EVP Digital Media & Entertainment, Wizard World, Inc.
Shelton Drum, CEO, Heroes Convention
Lance Fensterman, Senior Vice President ReedPOP
Meg Lemke, Chair, Comics & Graphic Novel Committee at the Brooklyn Book Festival, and Contributing Editor at MUTHA Magazine
Rob Salkowitz, author, writer of Comic-Con and the Business of Pop Culture
Moderated by Heidi MacDonald, comic editor and commentator from The Beat
The New Customer Connection
The new customers get comics and graphic novels in a variety of ways, including digital, e-commerce, and brick and mortar stores. We discuss who these new readers are, where they're coming form, and what kinds of books they like.
Jim Crocker, General Manager, Modern Myths
Terence Irvins, Graphic Novels and Comics Buyer, Kinokuniya Bookstore, NY
Andrew McIntire, Vice President, Things from Another world
David Steinberger, CEO, comiXology
Tucker Stone, Director, U.S. Sales and Marketing, Nobrow and Flying Eye Books; Managing Partner, Bergen St. Books
Moderated by Milton Griepp, CEO, ICv2
The New Comics and Graphic Novels
The new comics customer wants a different kind of comic, and the creators and publishers that can give it to them are being rewarded. Our panelists share their insights.
Ted Adams, CEO, IDW Publishing
Jon Goldwater, Co-CEO, Archie Comics
Joe Illidge, Partner, Verge Entertainment
Sven Larsen, VP-Marketing, Papercutz
Cassandra Pelham, Senior Editor, Scholastic's Graphix
Moderated by Calvin Reid, Senior News Editor of Publishers Weekly
Register Today!
For only $99 to $199, depending on your category, you can take part in this important gathering of the industry, held in association with New York Comic Con.
• Creator, Retailer, Librarian, or Educators pay only $99.
• Publisher, Producer, Agent, Manager, Marketer, Licensing, Distributor, all others pay only $199.
Click here to register
.
To sign up for email updates on the Conference,
click here
.
Press
The ICv2 Conference is open to all press, but we need your RSVP. Please
click here
to let us know you're coming.
ICv2
ICv2 is the #1 industry source on the business of geek culture, including comics and graphic novels, manga and anime, movie/TV products, and hobby games, on its Website,
www.ICv2.com
, and in its magazine,
Internal Correspondence
. For the people on the front lines of the geek culture business, staying ahead of the trends isn't something that can be left to chance-it's a basic necessity for being successful. That's why ICv2 is the #1 source of news and information for the buyers, gatekeepers, and tastemakers on the front lines. ICv2 is where trend-watching is a science.
Our Sponsors
Each year, our sponsors include some of the most forward-thinking companies in the industry. If you're interested in a sponsorship for the ICv2 Conference, please
contact the organizer
.
Conference Co-Sponsor: Eventbrite
Eventbrite provides a simple, streamlined ticketing platform to help organizers set up, promote, and sell out their events--from fan conventions and tournaments to local meetups, celebrity signings and press events. With more than $2.5 billion in gross ticket sales to date, Eventbrite can help you reach more fans. Visit
eventbrite.com/cons
.
Conference Sponsor: Publishers Weekly
Publishers Weekly
is your number one insider's guide for all pre-publication comics and graphic novels. Register for
PW's ComicsWorld
e-newsletter for advance listing, reviews and news dedicated to comics and Graphic Novels. If it is happening at New York Comic Con, then we have already written about it on
PublishersWeekly.com
.
Conference Sponsor: Heidi MacDonald's The Beat
The Beat
, now in its ninth year, is dedicated to providing the timeliest and most pertinent news and information about comics, the people who make them, the readers who love them and the world that shapes them. Heidi MacDonald is an Eisner Award-nominated writer and editor and a veteran entertainment industry journalist. As an editor she has worked for Disney, Warner Bros., and Fox, among many others.
Conference Sponsor: New York Comic Con
New York Comic Con
is the East Coast's biggest and most exciting popular culture convention. Our show floor plays host to the latest and greatest in comics, graphic novels, anime, manga, video games, toys, movies, and television. Our panels and autograph sessions give fans a chance to interact with their favorite creators. Our screening rooms feature sneak peeks at films and television shows months before they hit either big or small screens. And with dedicated professional hours, New York Comic Con is a market place, bringing together the major players in the entertainment industry. New York Comic Con is the second largest pop culture convention in America with over 130,000 attendees in 2011, and the only one that takes place in the comic book, publishing, media, and licensing capital of the world--Gotham City.
Conference Sponsor: Valiant Entertainment
Valiant is a leading character-based entertainment company with a library of over 1,750 characters, including X-O Manowar, Bloodshot, Shadowman, Eternal Warrior, and many more. Established in 1989, Valiant has sold over 80 million comic books, and today its characters continue to be forged in publishing, licensing, film, video games, and beyond. Since its summer 2012 relaunch, Valiant has returned to the fore as one of the most highly regarded publishers in comics, winning multiple awards including a 2012 Diamond Gem Award for Comic Book Publisher of the Year. For more information, visit
ValiantUniverse.com
.
For more information on the speakers at the ICv2 Conference,
click here
.