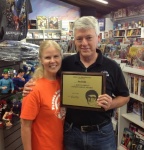 Joe Field of Flying Colors in Concord, California missed the Eisner Awards ceremony at San Diego Comic-Con where he was awarded the Bob Clampett Humanitarian Award for his work as "a continuous positive force in the comics industry" (see "
Eisner Retailer Award Winners
"), but has now revealed the long and short versions of his acceptance speech and why he missed the ceremony.
In a
blog post
on his store's website, Field explained that he'd planned to be at the awards ceremony at a sponsor table, but was unable to attend after being diagnosed with the sometimes deadly H1N1 flu earlier in the day in San Diego. He found out he was going to win the award when he e-mailed Jackie Estrada, the administrator of the Eisner Awards, to tell her he would not be at his sponsor's table that night and she responded by telling him he'd won the award.
The Bob Clampett Humanitarian Award has only been given to one other retailer in its history (Mimi Cruz of Night Flight Comics, in Salt Lake City, Utah, in 2004) and has been given to numerous industry luminaries since its inaugural year in 1984, including Jack Kirby, Ray Bradbury, Robert Heinlein, and Will Eisner.
Field's role as the founder of Free Comic Book Day, one of the founders of WonderCon, and the owner of Flying Colors, was called out in the introduction to his award at the ceremony. Fellow retailer Joe Ferrara accepted the award on his behalf, but we particularly liked the short version of the acceptance speech Field couldn't give, as he posted it on his blog:
"I am touched by receiving this honor, but as much as I would love to be there to receive it, it's probably a small humanitarian gesture for me to keep my germs to myself."