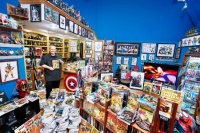 The 2015 edition of the
Guinness Book of World Records
names Bob Bretall of Mission Viejo, California as the owner of the world's Largest Collection of Comic Books, Bretall announced on his
blog
. At the time he submitted his collection (May 1), he had 94,268 individual comics, which he explained does not include any duplicates. Each comic was purchased as an individual issue; there were no bulk buys.
Bretall distinguishes his collection from retailer/dealer inventory, and says he's read 90-95% of the comics he owns. He declined to value any of his comics. "I do not like to emphasize the moneteray aspects of collecting comics," he explained. "Too many stories about comics collecting focus on how many $$ everything is worth instead of the great stories and characters."
He began collecting when he was eight years old, with
Amazing Spider-Man
#88, by Stan Lee and John Romita Sr. He wore out that issue and has since replaced it, and had it autographed by both Lee and Romita.
Bretall says he's currently buying about 140 new comics a month (from Discount Comic Book Service), including 40 Image titles, and also buys back issues. He buys bags and board in 1000s every three months or so. Most of his collection is stored in long boxes in his garage; with a few items stored in his comic room, pictured here.
This is the first time Guinness has awarded the record, so competitive submissions are likely.