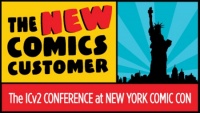 An ICv2 Release.
One of the reasons there are new comics customers is that there's a wider variety of comics and graphic novels. But that's not the whole story, because not only does it take new kinds of content, it also means finding the customers that want to buy it where they shop. What publishers are finding success at publishing for the new comics customers, and how are they doing it?
Some are creating original stories with new characters that look like the audiences they're trying to attract. Although such titles can sell in all venues, they seem to find more of an audience in bookstores, and in the case of stories directed at young readers, in schools and libraries.
Others are publishing licensed titles that can rely on a mass audience being familiar with the characters before the first time they see a comic or graphic novel featuring them. Depending on the genre, such titles can find an audience in almost any venue, but because of their broad appeal, are uniquely suited to reach customers in venues that appeal to the broadest possible audiences: digital, mass, and book. Sometimes that requires formats, such as the magazine format, digests, specially formatted graphic novels, or pegable packets, that fit the channel.
And still others are creating new work based on house intellectual property, but tweaking it to make it appeal to a broader audience. In some ways these are the most challenging creations, because they have to find ways to be creative within the confines of past continuity and character development, or to abandon that continuity in ways that don't violate the core tenets of the character.
What can we learn about the kinds of stories that appeal to new comics customers, and what has to be done to find those customers? We'll try to find the answer at the ICv2 Conference at New York Comic Con in the panel on "The New Comics and Graphic Novels," with this great panel of publishers and experts:
Ted Adams, CEO, IDW Publishing
Jon Goldwater, Co-CEO, Archie Comics
Joe Illidge, Partner, Verge Entertainment
Sven Larsen, VP-Marketing, Papercutz
Cassandra Pelham, Senior Editor, Scholastic's Graphix
Moderated by Calvin Reid, Senior News Editor of Publishers Weekly
The ICv2 Conference: The New Comics Customer will take place at the Jacob Javits Convention Center from 1 p.m. to 5 p.m. on Wednesday afternoon, October 8th.
Don't miss it—get more information or register by
clicking here
.