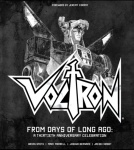 Voltron: From Days of Long Ago--A 30th Anniversary Celebration HC
Publisher: VIZ Media
Release Date: October 28, 2014
Price: $29.99
Creator: Brian Smith
Format: 151 pgs., Full-Color, Hardcover
ISBN: 978-1-4215-7540-7
Age Rating: All Ages
ICv2 Rating: 4 Stars out of 5
Being that I was born in the early 80's I missed out on the
Voltron
craze that hit the United States around that time. My girlfriend on the other hand absolutely loved
Voltron
growing up and so when I learned that a special 30th anniversary book was coming out I knew that I had to get it for her and learn a bit more about this piece of anime history myself.
Lasting a solid 151 pages, this book is a dream come true for those of you who woke up early all those mornings to see what would happen next to the heroes that they grew to know and love. Filled with tons of insider knowledge about the process of bringing this show to audiences on this side of the Pacific, this book is a high quality release that will bring an amazing amount of memories back to everyone who loved this show growing up.
VIZ Media put together a solid book that is high quality all around. On the outside you have a hardcover and inside you have high quality pages which will last for many years and readings to come.
Voltron: From Days of Long Ago
is a worthy piece that will create smiles of joy all over the country as fans relive days from long ago. E ven if you're not a fan from the original series, this is a book that will teach you all about what you missed out on. Add this book to your collection!
--
L.B. Bryant