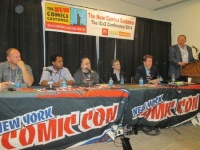 ICv2 CEO Milton Griepp moderated "The New Customer Connection," a panel of print and digital retailers at the ICv2 Conference at New York Comic Con on Wednesday, October 8, examining the dynamics of where and how new customers are coming into the comics industry. The panel was central to the theme of the Conference, the New Comics Customer (see "
Comics, Graphic Novel, and Digital Thought Leaders Gather at ICv2 Conference
.")
Several of the panelists began by noting the changing demographics of their customers, with the average age dropping, and the percentage of females increasing. ComiXology CEO David Steinberger said that between the 2013 and 2014 customer surveys, there was a small increase in the percentage of female customers, and a big increase in younger customers, 18-30, as compared to the typical male customer in his 30s or older.
Tucker Stone of Bergen St. Comics said that graphic novels for kids had become a third of the offerings at the store over time, and that for graphic novels over-all, female and male customers were at parity. He noted that the growth in women and kids was bringing the store's shoppers more in line with American retail as a whole, in which women and kids make up the bulk of the shoppers.
Things from Another World's Andrew McIntire had some interesting information about female customers from a survey of brick and mortar and online customers. Women made up 23.5% of respondents, but he noted that women made up a larger percentage of in-store visits and online visitors; they tended to shop longer before purchasing; but bought more per order than males once they did pull the trigger. He also had an interesting insight on the percentage of female customers that self-identified as die-hard fans.
"Nearly 50% of the female respondents identify as die-hard fans, which among other factors, such as common sense, should put a definitive nail in the coffin [of the idea] that women just get into comics because it's what guys like," McIntire said. "It's an idiotic concept and it's one that's not borne out by money, which is ultimately what I look at."
The female TFAW customers were younger than the males, and were more likely to be new customers. They liked indies more than typical customers, and liked Marvel and DC's less. Around 55% agreed with the statement "I like comics starring strong female protagonists. Often don't like how women are portrayed in comics." That was a lot higher than the typical customers, which had around a 25% agreement with that statement.
The topic turned to the question of the impact of digital availability on print sales, and the response was uniform that the impact was positive. Steinberger revealed that 20% of comiXology customers are new to comics, and 60% of those new customers go on to buy print within two months of signing up on comiXology. Stone of Bergen St. agreed, noting that digital brings in new customers and transition-type books such as
Walking Dead
or
Saga
are good introductions for new customers.
Jim Crocker of Modern Myths pointed out an impact of digital comics beyond simple growth. "Digital is growing the market but it's also undeniably changing it," he said. "As retailers we can't just sit back and go 'oh, cool, digital's growing the market,' because digital is changing the kinds of customers that are coming in. All of our shops need to be ready for those new customers."
McIntire noted that existing changes were amplified by digital. "Has it changed the comics market? Yes, but I think it was symptomatic of the change that was already occurring," he said. "You can't go and try and invite everybody to your clubhouse and stop making fun of you and then get pissed off when they show up."
Terence Irvins of Kinokuniya Bookstore in New York City took the conversation back to a Warren Ellis prediction in his long-ago email newsletter. "Warren Ellis said that there will one day be a casual customer," he said. "There will be a person that goes into a comic book store like a regular bookstore to browse the shelf and purchase something." He noted the increased demand for "one and dones," stories that could be understood and enjoyed without a broad knowledge of the backstory. Irvins also noted that the tactile experience of books was important to the shoppers in his store.
Several panelists noted that the digital alternative was creating increased pressure to adapt for brick and mortar stores. Stone said he grew up in the South where there wasn't always a good place to buy comics, but now there's always an alternative. "There are bad stores, bad places to be if you're a woman, if you're a person of color. Now there is a punitive way to punish those stores, because there's an alternative. 'You're not going to get the books out on time, you're not going to be nice, you're going to be rude, you're going to put weird porny things on the walls so I can't bring my six year old in here, then I'm not going to shop here. I can get on my phone right now.' And that didn't happen before."
"A lot of those old DM shops will be punished if they don't adapt," Irvins said.
McIntire put a capstone on that topic with this artfully turned phrase. "It's not just the South," he said of stores that aren't able to handle new customers. "There are places where people have been very entitled with the opportunity to be the bush-league fuehrer of their mighty nerd empire. You can't do that any more…. We can talk about the new and old customers, but fundamentally we're talking about treating customers right, and customers now being in a position in this industry to not only expect but demand that."
A number of vectors for new customers other than digital were discussed, including the role of broad media exposure of comics, fan fiction, and the importance of libraries, schools, and colleges in bringing in new customers, either to get books that were not available at libraries (or with too long a wait), or to explore other graphic novels by creators that were first introduced at a library or school.
Stone was most emphatic in describing his strategy for responding to opportunities to collaborate with libraries and schools. "Anything a librarian or a teacher wants you to do, if you're working in comics, you just do it immediately," he said. "You should just stop doing whatever you're doing at the time and just do whatever the librarian or teacher wants. It will pay off seven-fold."