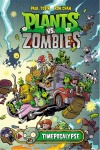 Dark Horse Comics has announced sales of its
Plants vs. Zombies
books have topped 500,000 copies.
Dark Horse licensed PopCap's
Plants vs. Zombies
video game property for comic adaptation last year (see "
Comic-Con Round-Up: Dark Horse
"), and began a comic series written by Eisner-winner Paul Tobin (
Bandette, Colder
), with art by Ron Chan (
Star Wars: Knights of the Old Republic, Guy Ritchie's Gamekeeper
).
The first six-issue series,
Plants vs. Zombies: Lawnmageddon,
was first serialized digitally, then released as a hardcover in November 2013. Dark Horse followed this with
The Art of Plants vs. Zombies
in April.
The second six-issue series,
Plants vs. Zombies: Timepocalypse
is currently available digitally, with a hardcover collection releasing on January 13, 2015. The series is also done by Tobin and Chan. MSRP is $9.99.
Dark Horse credits strong sales across all its channels, in comic shops, book stores, and Scholastic book fairs, as contributing to making the books a hit.