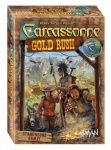 Z-Man Games will release
Carcassonne: Gold Rush,
a new stand-alone title in the "Carcassone: Around the World" series of games, on December 10th.
Designed by
Carcassonne
creator Klaus-Jurgen Wrede, this version of the tile-playing game takes place in the historic Far West during the time of the Gold Rush. Players are cowboys hoping to strike it rich prospecting for gold. Railroads bring players to small camps that quickly expand into cities. There are Native Americans to trade with, but the real money is in mining for gold.
The box contains 72 land tiles, 63 mining tokens, 25 cowboys, 5 tents, a scoreboard and a rulebook. The game is for 2-5 players, ages 8 and up, and plays in 35 minutes. MSRP is $34.99.
Carcassonne
is currently ranked at #9 on the most recent Top 10 Hobby Channel Board Games chart (see "
Top 10 Board Games--Summer 2014
"). The first "Carcassonne: Around the World" title was last year's
Carcassonne: South Seas
(see "
'Carcassonne--South Seas'
").