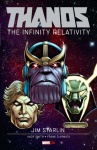 Marvel Comics has announced the June publication of
Thanos: The Infinity Relativity
, a new original graphic novel written and drawn by Jim Starlin. Starlin, of course, is the creator of Thanos. The Mad Titan first appeared in the Starlin penned (and drawn)
Iron Man
#55 in February of 1973, so it's safe to say that nobody knows the Avatar of Death better than Starlin, who also created (or co-created) Drax the Destroyer, Gamora, and Shang-Chi, Master of Kung Fu.
With the current popularity of
Guardians of the Galaxy
, which has been spurred by James Gunn's hit movie, and by Marvel Comics' consistent expansion of
GotG
comic book series (see "
'Guardians' Scripter Will Write 'Gamora' Comic
"), Thanos, who was played (uncredited) by James Brolin in Gunn's film, has become one of Marvel's hottest villains. But in Starlin's new
Thanos: The Infinity Relativity
it appears that an alliance of convenience with Thanos may represent the only chance that the Guardians and Adam Warlock have of ending the threat of Annihilus once and for all.