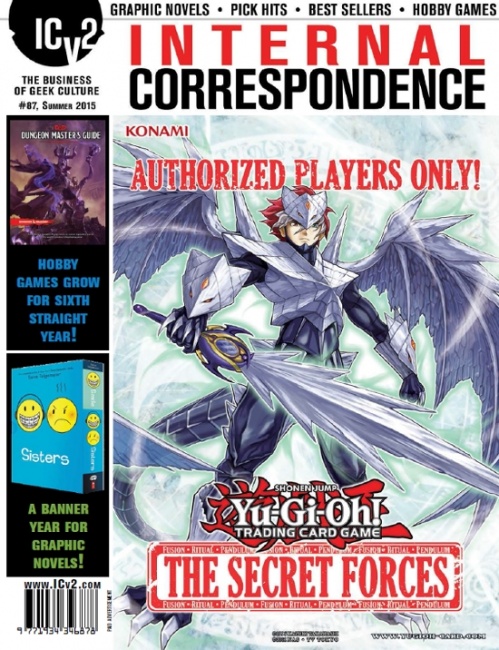 The retailers we interviewed for the comics and graphic novel market reports in the just-released
Internal Correspondence
#87 were more optimistic about the prospects for the year than at any time since ICv2 began producing its magazine more than a decade ago (and even more optimistic than last year, which had strong sentiment, see "
Comic Retailers Optimistic
"). There's a broad range of factors leading to that optimism.
The big events that the Big 2 (Marvel and DC) have planned are big and bold enough that retailers are happy with the prospects for the all-important superhero side of the business. And Marvel's successful launch of its
Star Wars
line and the December release of the first Disney
Star Wars
movie are also viewed by most retailers as a major opportunity, particularly since the first three ongoing
Star Wars
comics from Marvel, which are launching in Q1, should all have graphic novel collections on sale just as excitement for the launch of the new
Star Wars
movie heats up.
Avengers: Age of Ultron
is also expected to bring customers into stores, and the rapidly expanding array of comics-based TV shows is also reason for optimism.
And creator owned titles are also booming, with Image riding the success of two major franchise hits,
The Walking Dead
and
Saga
, and Matt Fraction and Chip Zdarsky's
Sex Criminals
seemingly poised to move into that status as well.
And graphic novels for kids have a major shot in the arm with the massive success of Raina Telgemeier's
Sisters
, which released last summer, leading the way.
We changed the organization of our charts showing the top graphic novel franchise with the Fall/Holiday season. As many retailers are now doing, we're going to break down adult graphic novels into three main categories: superhero/genre (corporate-owned characters interpreted by a variety of creators), manga (generally of Japanese origin, or from elsewhere in a manga style), and "author" graphic novels (creator-owned or –driven works). We began this change in our discussion of BookScan charts last month (see "
January 2015 BookScan--Top 20 Adult Graphic Novels
").
These graphic novel charts are based on sales across channels, including comic, book, mass, and online retailers. We rank the "franchises," which often include multiple titles, as in a series.
Graphic novels are currently the comics format with the broadest appeal (bigger than periodicals, and much bigger than digital), and the top franchises across channels are the properties driving the business.
Here are links to ICv2's charts of the Top Graphic Novel Franchises across four categories for Fall (September-December 2014), which first appeared in
Internal Correspondence
#87:
Top 10 Superhero/Genre Graphic Novel Franchises--Fall/Holidays 2014
Top 10 Author Franchises--Fall/Holidays 2014
Top 10 Manga Franchises--Fall/Holidays 2014
Top 10 Kids & Tweens Graphic Novel Franchises--Fall/Holidays 2014
We're interested in your thoughts on how we're breaking down the charts, both in general and on specific titles. Send your comments to
comments@icv2.com
For info on how to get your copy of
ICv2's Internal Correspondence
#87, with the full market reports, Pick Hits of the best upcoming releases, and reviews, see "
ICv2 Releases 'Internal Correspondence' #87
."
For market reports on hobby games from
ICv2's Internal Correspondence
#87, see "
Six Straight Growth Years in Hobby Games
."