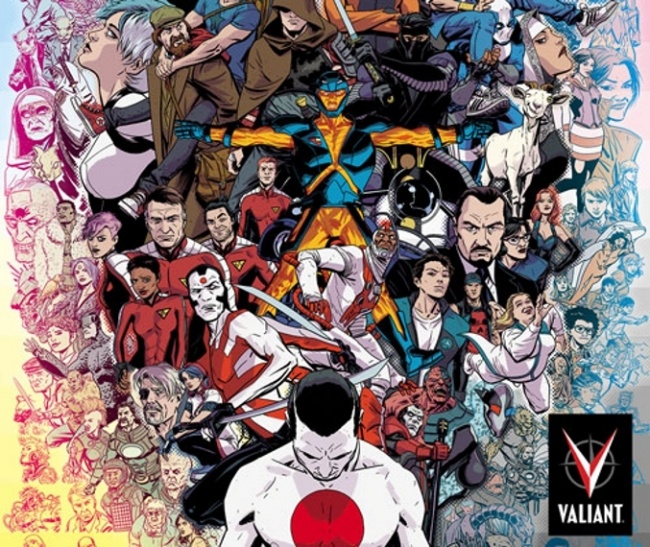 Valiant Entertainment has announced a major investment from Chinese company DMG Entertainment, which co-financed and co-produced
Iron Man 3
, among other Hollywood-based films. DMG is investing at least $10 million in a series C round of equity into Valiant, and has dedicated at least $100 million toward film and TV production based on Valiant characters.
In addition to financing film and TV, the companies seek to form China-focused licensing partnerships for publishing, animation, online gaming, toys, apparel, live events, theme parks, and more. DMG CEO Dan Mintz described the strategy, and explained why DMG chose Valiant. "Global markets, like China, offer the greatest opportunities for monetization from merchandising, licensing, as well as revenues from film and television properties," he said. "Comic superheroes are the most lucrative and sought after IP for movie franchises, so taking a stake in the last independent massive comic universe is a strategic investment for DMG that will produce movies and TV that are both appealing and relevant to a global audience."
Valiant Chairman Peter Cuneo also touted the opportunities of the Chinese market. "We will look forward to introducing some of the most popular superheroes of all time to the world's fastest growing market across all media forms," he said.
Valiant already has three films in development, including
Archer & Armstrong
, being developed by the Sean Daniel Company with a BenDavid Grabinski script (see "
'Archer & Armstrong' Movie
");
Shadowman
, also in development by Sean Daniel, with a script by J. Michael Straczynski (see "
JMS to Adapt Valiant's 'Shadowman'
"); and
Bloodshot
, in development at Sony (see "
Here Comes the 'Bloodshot' Movie
").
Valiant has always had a strong emphasis on media development of its properties, as it expanded its publishing operation and pursued the re-launching of the Valiant character library, and laid the groundwork for a more aggressive licensing posture when the media hits. This new financing from a strategic investor gives Valiant the means to jumpstart its film and TV development while giving it the strongest possible position in the second-largest film market in the world, growing at 36% a year and expected to pass the U.S. in the next few years.
"Today marks one of Valiant's biggest milestones yet with a huge step towards bringing the Valiant characters to the big screen and forging the foundation of the first truly international cinematic universe," Valiant CEO & CCO Dinesh Shamdasani said of the deal. "By bringing Valiant's biggest heroes to theaters around the world in concert with our new partners at DMG, we look forward to making Valiant not only an iconic name in comics, but global entertainment as well."