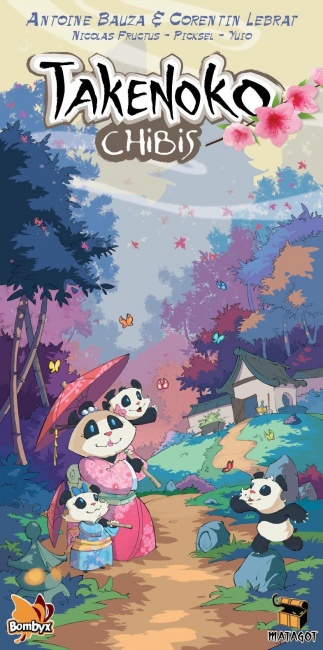 Asmodee will release an expansion for Antoine Bauza and Corentin Lebrat's popular
Takenoko
game featuring super-cute baby panda characters in "chibi" style.
Takenoko Chibis
will be released at Gen Con this summer.
In Takenoko, two to four players must balance the needs of the Emperor's Giant Panda as they grow a bamboo plantation, competing to fulfill Objectives to score points. The expansion adds nine Panda babies and Miss Panda to the game. The new Objective cards, Plot tiles, and Pandas create new challenges for the gardeners. New landscapes, including the "Sacred Hill" and "Kami Garden" are also included in the expansion.
Takenoko Chibis will include 1 new "Miss Panda" figurine, 9 Panda Baby tokens with images of the adorable creatures, 18 cards, 17 bamboo sections, and 6 plot tiles. As an expansion, it requires the base game to play. MSRP is $29.99.
(See gallery below for panda character art.)
Takenoko was the ninth best-selling board game over the 2014 holiday season, according to ICv2's calculations (see "Top 10 Hobby Channel Board Games-Fall/Holiday 2014").