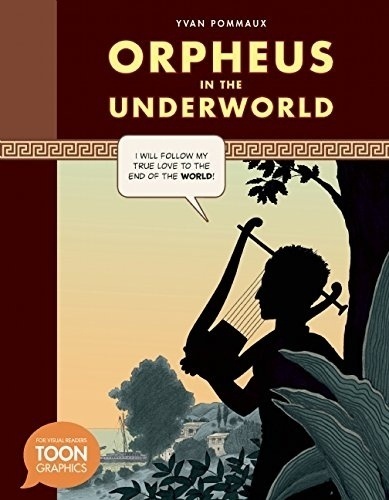 Orpheus in the Underworld HC
Publisher: TOON Books
Release Date: June 2, 2015
Price: $16.95
Creator: Yvan Pommaux
Format: 52 pgs., 7.8"x10", Full-Color, Hardcover
ISBN: 978-1-9351-7984-9
Age Ratings: 8-12
ICv2 Ratings: 3 Stars out of 5
It's nice to have yet another graphic adaptation of the Greek myths and legends, because those tales are extremely popular with kids and teens. The artwork of Pommaux just isn't as well aimed at a young audience. His illustrations are oddly static, and in many of them it looks like Orpheus was an early adopter of hair gel. Weirdly, character illustrations do not express emotions well. In the scene where Orpheus confronts Hades, begging for his wife's return to life, the words indicate that Orpheus is thinking, perhaps concerned. The actual illustration makes it look like he's rolling his eyes at Hades, never a good idea.
The story itself is told in such a way that kids unfamiliar with Orpheus and his love will learn the story… but not the way her name is really pronounced. In a strangeness as bad as the apparent hair gel, Pommaux or his editor gives incorrect pronunciations for Eurydice and for Cerberus, and older kids might notice that.
Kids totally unfamiliar with the myths won't notice or mind… but they're less likely to pick up the book in the first place. The notes section and the map of the underworld are much better, and will be enjoyed by kids who have read even a little bit of other Greek mythology. The book will be best enjoyed by kids in grades 3-5.
--Nick Smith: Library Technician, Community Services, for the Pasadena Public Library in California.