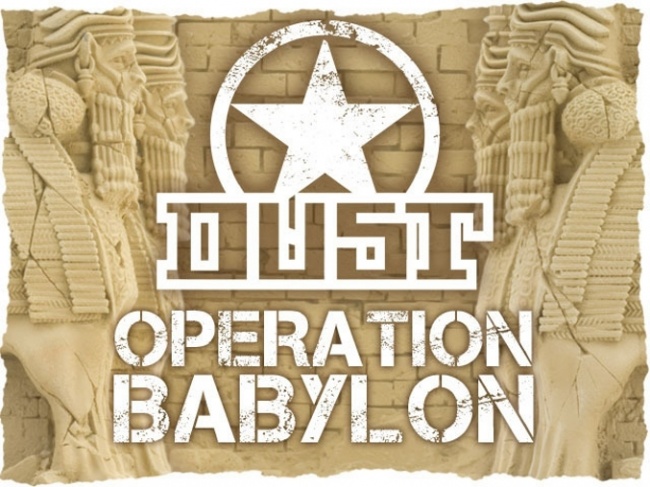 Battlefront Miniatures CEO John-Paul Brisigotti responded today to the social media accusations from Dust Studios regarding the breakdown of their partnership for the
Dust: Operation Babylon
miniatures line Kickstarter.
The Kickstarter raised $469,313 from 1,475 backers, with the product shipment broken up into two waves. The "Wave 1" product began shipping last December, but between that shipment and January, relations between the two companies broke down. Dust took the disagreement public via social media in January (see "
Dust-Up over 'Babylon'
"), which included
Dust
creator/artist Paulo Parente
requesting
that Kickstarter backers scan their Kickstarter invoices and email it to Dust Studios, claiming they had no idea how much "Wave 2" product they were supposed to produce without a purchase order from Battlefront.
Dust compiled those emails, and sent those backers a letter earlier this week, stating it cannot deliver the product, claiming Battlefront was refusing to pay for the "Wave 2" stock. That letter was also
posted
on social media. "Battlefront is holding your money hostage, attempting to force us into an unbearable position and capitulate," the letter states.
"Please accept our apologies but we cannot accept any further humiliation. Our brand has been dragged through the mud and our reputation seriously damaged," the letter continues. "Being in breach of both our distribution and the Kickstarter agreements, Battlefront has been notified that our business relationship is officially ended."
Battlefront manages the Kickstarter page, and has posted official updates all along, keeping backers informed of the negotiation process. Those updates included a "backer only" update (posted
here
by a backer) on May 9 stating, "We absolutely and utterly refuse the statements made by both [
ed. Dust Studios CEO
] William Yau and Paulo Parente in their letter to backers."
"... They have simply refused to share any detailed information in trying to resolve the dispute."
"We will send out a formal response to all backers early next week to not only refute this one-sided propaganda but illustrate just how much these two men have chosen to leave out when claiming to be the victims in their own farce."

I
n an extensive statement today, Brisigotti addressed backers concerns directly, stating that Battlefront has been waiting for an itemized list of "Wave 2" products that have been produced so it can pay. "If 'Wave 2" products really have been produced, we need to see a list so we can pay for the agreed stock and arrange for it to be collected from Dust Studio and distributed to you, the backers. To date, we have heard nothing more than, 'It's finished. Pay.' from William, or last week a flat-out refusal to deliver stock to us now that their 'new plan' is in the works."
"We feel it is only prudent to want William to confirm he will release the goods to the shipping agent on receipt of the transferred funds," he continued.
"If we are given this list we will use the balance of the money remaining to pay for the stock and deliver it to the world, as was always the plan. It will take around six weeks from the stock being released to it arriving with us and starting to ship to you."
If Dust refuses, Battlefront proposed an alternative plan to issue backers a pro-rated refund or you 300% of the outstanding value equivalent in Battlefront's existing
Dust
stock.
Battlefront also addressed the retailer program it ran for the product, concurrent to the Kickstarter (see "
Retailers Can Sell 'Dust' Kickstarter Offerings
"
). "For those who backed through a retail store, we will be offering stores several solutions to make sure you are not left out. We are able to resolve this issue with stores quickly, given our ongoing relationship, so if Dust Studio truly force us to go down this path, no retailer or LGS backer will lose out."