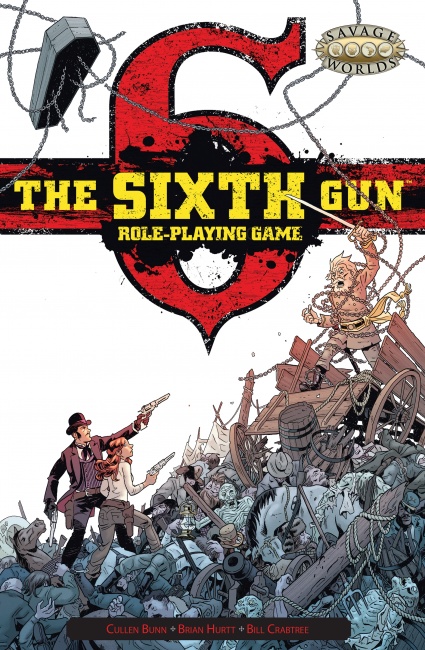 Oni Press and Pinnacle Entertainment Group have announced a licensed roleplaying game adaptation of Cullen Bunn's ongoing weird west comic series
The Sixth Gun.
(Click image for larger view.)
The game will be funded via a Kickstarter plan launching next week, with retail release planned for later this year. The game will use Pinnacle's
Savage Worlds
roleplaying game system.
The Sixth Gun
takes place in the post-Civil War old west, where the wielders of six mystical pistols clash over ownership of the weapons. Each of the numbered pistols gives its owner a unique ability, which is tied to the owner until they die.
"Anyone who knows me, knows that I've loved roleplaying games since I was in second grade,"
The Sixth Gun
writer Cullen Bunn said. "Even though I don't play nearly as much as I did during my heyday, I still collect games and roll dice with friends when I get the chance. I always felt there was a natural chemistry between comics and gaming, and I'm absolutely thrilled to see
The Sixth Gun
being developed by Pinnacle for roleplayers everywhere!"
Pinnacle also recently announced another licensed
Savage Worlds RPG
adaptation (see "
'Savage Worlds' Adapting 'Rifts'
").