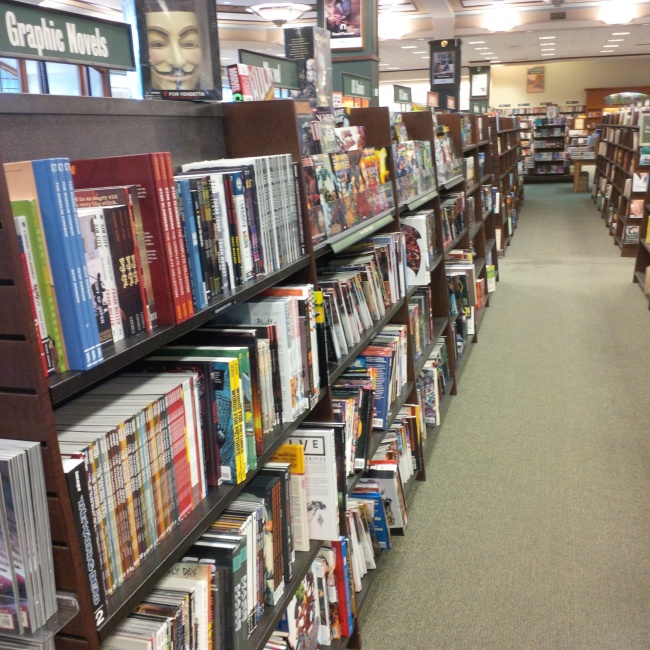 Barnes & Noble, the nation's largest book chain, has quietly increased the space it devotes to graphic novels in its 648 stores nationwide. The increase, described by one publisher as a "doubling," reflects the growing importance of the category in bookstores.
Click either image for larger view.
In our local Barnes & Noble store here in Madison, Wisconsin (probably on the large end for a B&N store), there are now ten full bays of adult graphic novels, broken down this way:
5 Manga
2 DC
1 Marvel
2 Everything Else (with "Graphic Novels" signage)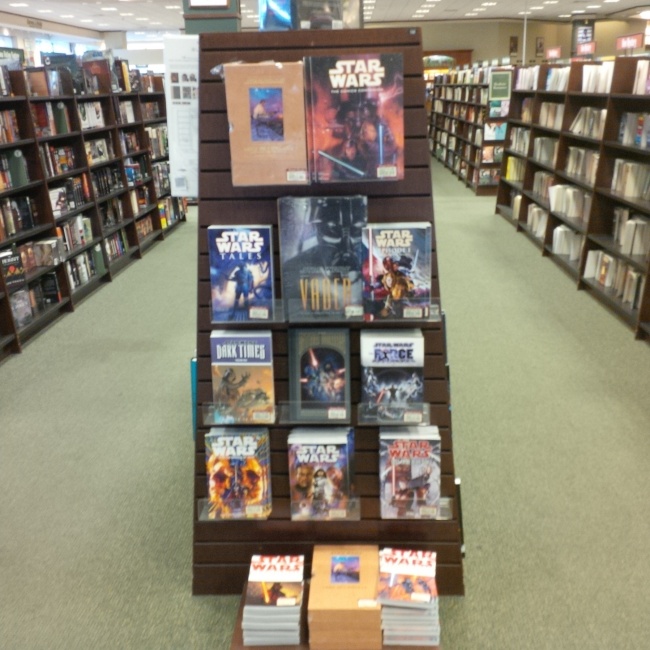 There's also a manga spinner adjacent to the graphic novel bays, and an end-cap, which was stocked with Marvel Star Wars titles the day we were there a few weeks back. The number of bays is up substantially from what it was for the last holiday season.
And there are also graphic novels in the Barnes & Noble kids department, and found in other locations throughout the stores. Can't We Talk About Something More Pleasant, the bestselling graphic memoir by Roz Chast (see "April 2015 BookScan—Top 20 Adult Graphic Novels"), is found in Biography, while Noelle Stevenson's Nimona, the Harper Teen collection of her webcomic, is found in Teen Adventure and Fantasy.
While Barnes & Noble has not mentioned graphic novels in its financial reports or conference calls for some time, Books-a-Million, the #2 chain in the U.S., has not been so taciturn, reporting that manga in particular has been a strong contributor recently (see "Manga, Strategy Games Grow for Book Chain").
Based on allocation of space, that must be the case for Barnes & Noble as well.
The company did not respond to a request for comment for this article.