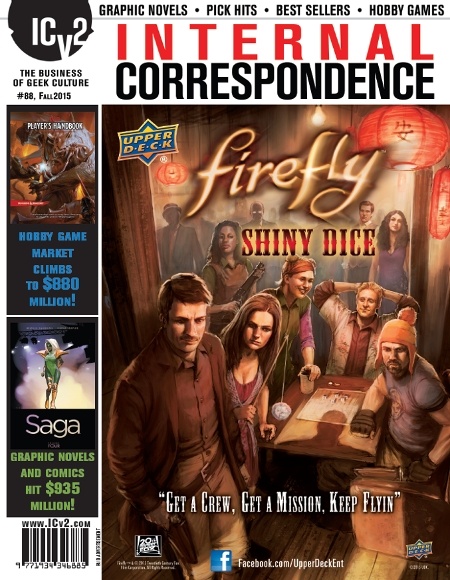 ICv2 found several broad trends at work in comic stores in first four months of 2015, and some big questions about where the market goes next according to a report in the recently released
ICv2's Internal Correspondence
#88.
Star Wars
has brought a new Force impacting the market in comic stores this year, in a season often devoid of big launches. And as Marvel's new
Star Wars
titles hit book format this fall, there's going to be some great product available to capitalize on the interest generated by what is probably going to be the biggest movie of the year.
Among other media tie-ins, the Netflix
Daredevil
series had an immediate impact on sales,
The Flash
has helped sales for some, and
The Walking Dead
continues strong.
The broader range of customers and content is contributing to growing sales, with some noting that variety of world view may be as important as more diverse characters. Women and kids are definitely growth segments in comic stores, which is great news, as both are more important reading consumer groups than the young men that comics have traditionally targeted.
The questions arise because both of the Big Two superhero publishers are doing line-wide revamps this year, which definitely carries some risks. Concern about DC's output is higher, because of the interruption of normal continuity during its staff move to Burbank and an overall softer sales picture.
And the broader questions relate to the life span of current trends and the ability of the four-year growth period to sustain itself. How long can the good times roll on?
This issue also contains the new market size estimate for comics and graphic novels, which reached $935 million in the U.S. and Canada last year (see "
Comics and Graphic Novel Market Hits New 20-Year High
").
Here's a list of ICv2's bestseller charts of the top graphic novel properties across trade channels in four categories for Spring (January-April) 2015, which appeared in
Internal Correspondence
#88:
Top 10 Superhero/Genre GN Franchises – Spring 2015
Top 10 Author GN Franchises – Spring 2015
Top 10 Manga Franchises – Spring 2015
Top 10 Kids/Tweens GN Franchises – Spring 2015
For info on how to get your copy of
ICv2's Internal Correspondence
#88, with the full market reports, Pick Hits of the best upcoming releases, and reviews, see "
ICv2 Releases 'Internal Correspondence' #88
."