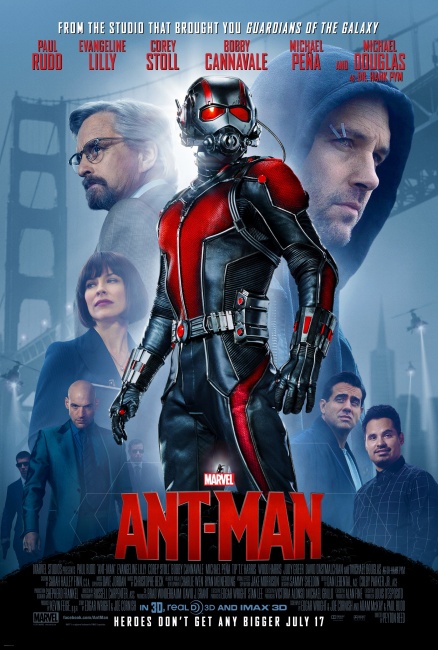 Marvel Studios'
Ant-Man
, which stars Paul Rudd, dropped 56.7% in its sophomore frame, but still earned $24.8 million to squeeze past the Adam Sandler-starring
Pixels
and win the box office crown for the second weekend in a row.
The tragic mass shooting at a showing of Trainwreck in Louisiana on Thursday night undoubtedly hurt attendance over the weekend, particularly at "family-friendly" movies, but the box office was down just one tenth of one percent from the same weekend a year ago when Scarlett Johannson proved she could open a film with the $43.9 million bow of Luc Besson's Lucy (in fact the #2 film that week, the Dwayne Johnson-starring Hercules, which earned $29 million, would have won the box office crown this weekend). This frame was saved by the 7-figure performances of the top six films, three of them holdovers and three newcomers.

After a bit of a soft domestic opening last week, Ant-Man displayed some nice legs in its second weekend as it added $24.8 million and drove its ten-day domestic title to $106.1 million. Overseas, though it has yet to open in a number of big markets, Ant-Man has earned $120.4 million for worldwide total of $226.5 million. So far Ant-Man appears to be on track to become a solid, if unspectacular, performer in the Marvel stable, but there is a "likeability" factor here that may translate into bigger success somewhere down the road.

Ant-Man and Pixels both probably lost a few customers to fear generated by the theater shootings in Louisiana, though it is doubtful that any "snapback" next weekend will be big enough to help Dreamworks' $90 million Pixels, which, with its 1980s nostalgia-infused high concept premise about aliens using 8-bit first generation video game characters to destroy the world, was once considered as one of this summer's biggest potential hits. Instead it is likely to go down as the death rattle of Adam Sandler's long, inexplicable run as the unrestrained cinematic id of the adolescent male. Foreign sales may yet save Pixels, which was financed in part by the China Film Group, which guarantees a run in the world's second biggest movie market.

Domestically however, it appears that Pixels, which scored only a mediocre "B" CInemaScore from audiences and has been savaged by the critics (only 19% positive on Rotten Tomatoes), will fall far short of the $100 million mark.

Universal's Minions, which dropped 55.1%, finished in third place as the overall-wearing Twinkies added $22.1 million and brought their domestic total to $261.6 million, which is just 34.4% of the movie's already massive $759.4 million worldwide total.
Weekend Box Office (Studio Estimates): July 24-26, 2015

Film

Weekend Gross

Screens

Avg./Screen

Total Gross

Wk#

1

Ant-Man

$24,765,000

3,868

$6,403

$106,075,000

2

2

Pixels

$24,000,000

3,723

$6,446

$24,000,000

1

3

Minions

$22,100,000

4,066

$5,435

$261,620,000

3

4

Trainwreck

$17,300,000

3,171

$5,456

$61,545,000

2

5

Southpaw

$16,500,000

2,772

$5,952

$16,500,000

1

6

Paper Towns

$12,500,000

3,031

$4,124

$12,500,000

1

7

Inside Out

$7,356,000

2,717

$2,707

$320,335,000

6

8

Jurassic World

$6,900,000

2,645

$2,609

$623,803,000

7

9

Mr. Holmes

$2,849,000

686

$4,153

$6,432,000

2

10

Terminator: Genisys

$2,400,000

1,702

$1,410

$85,666,000

4
The R-rated comedy Trainwreck slipped just 42.1% as it added $17.3 million, which was good enough for fourth place. Trainwreck has earned $61.6 million in ten days and has a shot to finish as the top R-rated comedy of the summer. Interestingly though the Thursday shooting, which was perpetrated by man with pronounced misogynistic/anti-feminist views, took place a showing of Trainwreck, there was no apparent effect on attendance at the Amy Schumer film. Studies of box office patterns in the wake of the James Holmes shooting at the opening of The Dark Knight Rises indicate that the attack did affect movie attendances for at least a month afterwards with family film fare taking the brunt of the loss with parents apparently reluctant to risk sending their kids to the movies.

Fifth place went to the one new film that outperformed its expectations, Antoine Fuqua's boxing movie Southpaw, which stars Jake Gyllenhaal. The $30 million production from the Weinstein Company earned $16.5 million in spite of reviews that were a bit disappointing (just 57% positive) given the Oscar buzz surrounding Gyllenhaal's "all-in" performance in the pugilistic drama written by The Sons of Anarchy's Kurt Sutter. Southpaw could be poised for a long run, in part because the film's diverse audience (43% Caucasian, 24% Hispanic, 21% African-American, 12% Asian) gave the film a solid "A" CinemaScore.

The expectations for the adaptation of John Green's Paper Towns were high, in part because of the success of the film based on Green's YA hit The Fault in Our Stars, and in part because of the high profile of Cara Delavigne, the female lead in Paper Towns, a gorgeous teen model who some expect to follow in the footsteps of the star of Fault, Shailene Woodley. The opening weekend of Paper Towns is a perfect illustration of a "front-loaded" teen hit—a film with a limited, but devoted audience that rushes out to see the film at the first showing. On Friday Paper Towns debuted with a solid $6.3 million, which tumbled 45% on Saturday, and then dropped 24% more on Sunday for a weekend total of $12.5 million. This downward trend is a bad sign for Paper Towns, which received only an "OK/neutral" "B+" CinemaScore.

Pixar's Inside Out slipped 36.3% in its sixth weekend as it added $7.3 million to bring its domestic total to $320.3 million. It still remains to be seen if Minions will have enough gas in the tank to overtake Inside Out on the domestic front (though internationally it is no contest with Universal's little jaundiced tube-steaks running out to an insurmountable lead).

Jurassic World slipped to #8 in its seventh weekend in theaters, but it still made the biggest box office news of the frame by bringing its domestic total to $623.8 million, surpassing The Avengers ($623.4 million) to become the third highest-grossing (not adjusted for inflation) film in domestic box office history. Earlier in the week Jurassic World surged passed The Avengers $1.520 billion worldwide total with a global total that currently stands at $1.542 billion and counting.

Ninth place went to the Ian McKellen-starring Mr. Holmes, which is currently in just under 700 theaters nationwide, but still managed to earn $2.85 million, while the tenth spot went to Paramount's Terminator: Genisys, another example of a failed stab at 1980s nostalgia, which earned just $2.4 million in its fourth weekend. Genisys has only earned $85.7 million here in North America, and won't make it to $100 million—sadly, it no longer seems that Arnold "will be back" in anything more than a cameo, if this beleaguered franchise is ever revived in some distant and desperate future.

Be sure to check back here next week to see how another summer blockbuster with high expectations, Mission Impossible: Rogue Nation, performs.