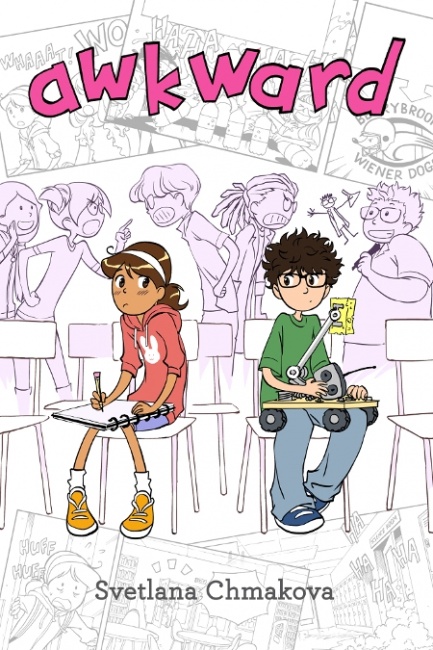 Awkward GN
Publisher: Yen Press
Release Date: July 27, 2015
Price: $11.00
Creator: Svetlana Chmakova
Format: 224 pgs., Full-Color, Trade Paperback
ISBN: 978-0-3163-8130-7
Age Rating: 10 and up
ICv2 Rating: 5 Stars out of 5
I rarely give a book five stars, because to me, it has to go above and beyond to deserve that score. This one does, because it is brilliantly aimed at middle school kids, and comes across as being remarkably real for that audience. I was only familiar with Chmakova's work for older teens, but she handled moving down in age group with great ease.
Peppi's first day at a new school goes terribly. Due to an embarrassing accident, she not only gets noticed by the mean kids but she herself is mean to a boy who was only trying to be helpful to her, and she's too embarrassed to apologize. Worse, he eventually becomes her tutor in the only subject where she is having trouble.
She's an artist. He's a science club member. Their clubs are arch-enemies, a situation made much worse by their teachers and their principal. This leads to absolutely hilarious competition and conflict which gets out of hand in ways that are very believable for the age of the characters. With the possible exception of the art teacher, every character in the book is believable and interesting, and the book will appeal to both the
Dork Diaries
crowd and middle schoolers who have been reading manga, because Chmakova's artistic stylings very much draw on manga tropes and story concepts.
The story includes a bit of advice to the reader, but presented after an engaging story that works extremely well, so the reader just might listen.
This book belongs in every library and home that has middle schoolers around.
--
Nick Smith: Library Technician, Community Services, for the Pasadena Public Library in California.