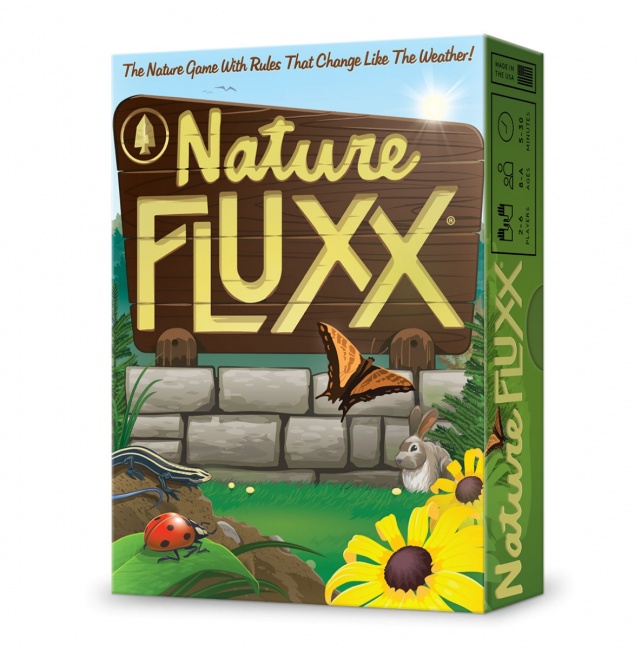 Looney Labs is recreating one of the many versions of its award-winning
Fluxx
card game:
Nature Fluxx
is scheduled to release on November 6.
Originally released as
EcoFluxx
in 2005, this environmentally-minded version of Looney Labs' card game is loaded with natural themes like woodland creatures and endangered animals, as well as eco-themed game mechanics like "Composting" that allows players to draw cards from the bottom of the discard pile.
Like other games in the
Fluxx
series,
Nature Fluxx
is built on a proven mechanic of "evolving" rules and shifting goals. The new version includes all of the cards from the original game, but with updated card and package art. In a press release, Looney Labs' CEO Kristin Looney explained that "Though it's evolved a little, as things in nature tend to do, it still maintains all the natural elements that made
EcoFluxx
so special."
Nature Fluxx
is for 2 to 6 players, ages 8 and up, and typically plays in less than half an hour. MSRP is $16. The game is available in six-unit countertop displays.
In addition to its "green" theme, Looney Labs will used
Nature Fluxx
to support its own ecological message by donating 5% of the game's proceeds to environmental non-profit groups.
Fluxx
has long been the flagship product for Looney Labs, and has spawned numerous spinoff games, including recent releases based on a number of animated series (see "
'Batman' and 'Adventure Time Fluxx'
"
and "
'Cartoon Network Fluxx' Hobby Release
"
).