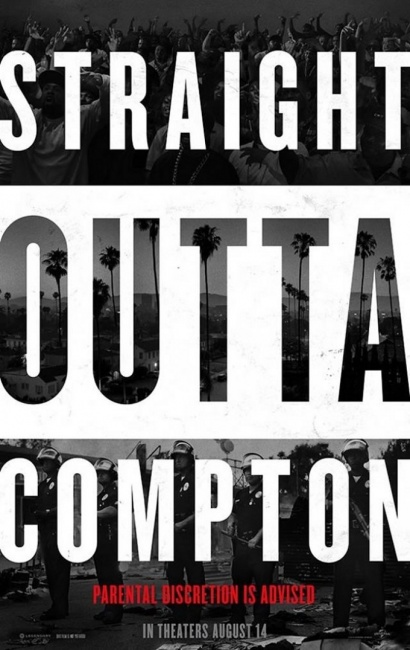 F. Gary Gray's
Straight Outta Compton
dropped just 50% as it earned an estimated $13.2 million and took the top spot for the third weekend in a row, but Hollywood's late summer swoon continued as the total of the top 12 films was off 22% from the same weekend a year ago when
Guardians of the Galaxy
topped to box office in its fifth weekend with $17 million.
Compton
has now earned $134 million to make it the highest-grossing rap-based film ever.
Compton
however, has only a small chance to overcome
Coal Miner's Daughter's
$202 million inflation-adjusted domestic total to become the highest-grossing musical biopic of all time. Still
Compton
is a major hit for Universal and it is showing some unexpected strength overseas where it opened as the #1 film in Germany and the U.K., though its overseas earnings are still very small ($6.5 million).
This weekend's big box office surprise was the Christian-themed
War Room
, which earned $11 million from just 1,135 theaters by posting what was by far the best per-venue average in the top 10 ($9612 per theater more than double
Compton's
$4214, which was next best in the top 10).
War Room
, which was directed by Alex and Stephen Kendrick, focuses on a black family, whose members turn to prayer to find solace in the face of adversity. While
War Room's
performance was driven by savvy marketing campaign that involved plenty of recommendations from the pulpit, don't expect the film to disappear immediately. It received an "A+" CinemaScore, which indicates that it more than pleased its target audience.
Tom Cruise's fifth
Mission: Impossible
film,
Rogue Nation
, hung tough at #3 in its fifth weekend in theaters. The latest
MI
film has now made $170.4 million domestically, and appears now like it has at least a chance to top $200 million. Overseas
Rogue Nation
has now made $309 million for a global haul of $479.4 million and counting.
Fourth place went to the Weinstein Company's
No Escape
, which stars Owen Wilson as an American ex-pat, who has to get his family out of a country that is experiencing a violent revolution.
No Escape
earned an estimated $8.3 million over the 3-day weekend, and $10.3 million in the five days since it opened on Wednesday.
No Escape
, which is in a virtual tie with
Rogue Nation
and could well end up at #3 when the final numbers are tallied tomorrow, attracted an older audience (80% over 25, with 40% over 45), and earned an ambiguous "B+" CinemaScore. Since the Weinstein Company paid just $5 million for the film, it should at least break even.
Focus Feature's horror film
Sinister 2
dropped 56% in its second frame (not a bad fall for a horror film) as it slipped to #5 with weekend earnings of $4.6 million and a 10-day total of $18.5 million.
Sinister 2
, which cost just $10 million, looks like it will at least make its money back, but the most successful horror/thriller film on the charts remains
The Gift
, which fell just 27% in its fourth weekend as it earned $3.1 million and brought its domestic total to $36 million.
Weekend Box Office (Studio Estimates): August 28-30, 2015

Film

Weekend Gross

Screens

Avg./Screen

Total Gross

Wk#

1

Straight Outta Compton

$13,240,000

3,142

$4,214

$134,126,000

3

2

War Room

$11,000,000

1,135

$9,692

$11,000,000

1

3

Mission: Impossible - Rogue Nation

$8,300,000

3,095

$2,682

$170,387,000

5

4

No Escape

$8,288,000

3,355

$2,470

$10,349,000

1

5

Sinister 2

$4,650,000

2,799

$1,661

$18,512,000

2

6

The Man From U.N.C.L.E.

$4,410,000

2,706

$1,630

$34,122,000

3

7

Hitman: Agent 47

$3,850,000

3,273

$1,176

$15,271,000

2

8

The Gift

$3,134,000

1,934

$1,620

$35,960,000

4

9

Jurassic World

$3,120,000

1,239

$2,518

$643,088,000

12

10

Ant-Man

$3,054,000

1,690

$1,807

$169,187,000

7
Guy Ritchie's The Man From U.N.C.L.E. continued to struggle, dropping to #6 in its third weekend as it brought in $4.4 million and pushed its domestic total to $34.1 million. It is clear that this $75 million production has faltered here in North America, and it remains to be seen if overseas earnings can salvage it. Incidentally, remember Terminator: Genisys, the $155 million would-be blockbuster that bombed here in July as it earned only $89.4 million? Well the film has earned almost that much in China, and $320 million outside of North America for a global total of $409. 5 million. While it's still not a moneymaker for Paramount (rather than the roughly 50% share of domestic box office earnings studios get less than that overseas— for examplethey only get to keep a third of the Chinese total—and there are promotional cost as well that are not counted in the "production cost" figures), it is no longer a big write-off for the studio either.

Fox's sorry videogame adaptation Hitman: Agent 47 slipped to #7 in its second weekend as it earned $3.8 million and brought its North American total to $15.3 million (against a production cost of $35 million).

Universal put this summer's biggest hit (and likely 2015's #1 box office film) Jurassic World back in IMAX for a week, and the movie earned $3.1 million, its biggest haul in weeks, as it drove its domestic total to $643 million. Evidently some think that Universal is trying to top Titanic's total of $658.7 million, the second highest ever (on the non-adjusted for inflation list, behind only Avatar). But not only does it appear unlikely that Jurassic World will ever reach $658.7 million, if it did, it would still be way behind the 1997 Titanic's inflation-adjusted total of $1.1 billion.

Marvel Studio's Ant-Man remained in the top 10 for the seventh weekend in a row as it earned $3 million and brought its domestic total to $169.2 million. With overseas earnings of $196.5 million, it appears that the $130 million production is already a modest hit for Marvel Studios and Disney.

Mention should be made of the Zac Efron-starring Electronic Dance Music DJ epic We Are Your Friends, which bowed from Warner Bros. in 2,333 theaters and earned just $1.8 million—the worst performance ever for a major studio film debuting in over 2,000 theaters. Now Warner Bros. paid just $2 million for the North American rights to the generically-titled film, so the studio won't lose much—but Warner Bros. has had a bad summer, and this certainly doesn't add any luster to the proceedings—maybe DC was lucky that Warners didn't try and launch a major superhero film this summer, the way the studio's other offerings fared.

Be sure to check back here next week to see if the action movie sequel, Transporter: Refueled or the Nick Nolte/Robert Redford/Emma Thompson drama A Walk in the Woods will be able to unseat the by now "long-in-the-tooth" reign of Straight Outta Compton (just don't bet the farm on it).