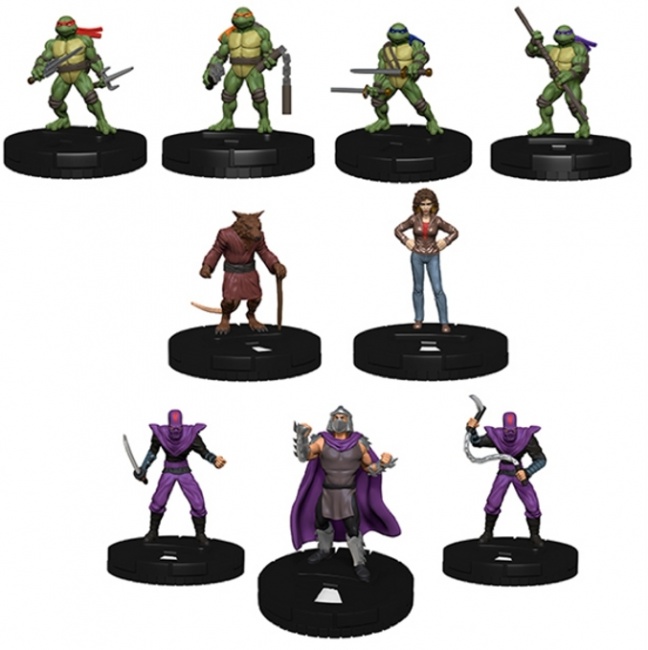 WizKids has revealed details about the new
Teenage Mutant Ninja Turtles HeroClix
set, scheduled to release in February.
(Click image for larger view.)
The new game is being produced under a license from Nickelodeon, and features images and storylines from all versions of the comic books, the classic cartoon, and the current CG-animated series (see "'Teenage Mutant Ninja Turtles' Comes to Tabletop"). There will be four products in WizKids initial release:
The Mouser Mayhem Starter Set will include popular characters from the Teenage Mutant Ninja Turtles. MSRP is $24.99.
The Teenage Mutant Ninja Turtles HeroClix Fast Forces Pack will offer an easy starting point for new players. MSRP is $16.99.
Players can also add individual models with the Foil Packs, each of which contains a single figure. Foil Packs are sold in 24-piece countertop gravity feed displays. MSRP is $2.99 a pack.
A TMNT-themed game accessory will also be offered: the Teenage Mutant Ninja Turtles HeroClix Dice & Token Pack will include two custom dice with TMNT logos and six action tokens for use with the game. MSRP is $9.99.
WizKids is also offering a Release Day Organized Play Kit. Stores can order up to three of these kits. Each kit will include three copies of a limited edition HeroClix figure and matching character card, five copies of a double-sided game map, and a rules sheet. Like all HeroClix OP kits, this kit will be marked "Not for Resale".
In addition to the new HeroClix sets, WizKids is launching a Dice Masters set based on TMNT (see "'TMNT' Joins 'Dice Masters'").