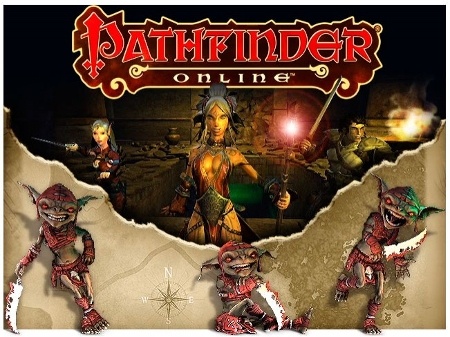 The CEO of Goblinworks, the company formed to create
Pathfinder Online
, an MMO based on the
Pathfinder RPG
, has departed, and most of the employees have been laid off, the company announced yesterday.
CEO Ryan Dancey resigned for "personal reasons," according to a message from Paizo CEO Lisa Stevens, who has been appointed acting CEO of Goblinworks in the wake of Dancey's departure.
As of last Friday, Goblinworks laid off all but three employees, the CTO, Art Director, and Designer, who will continue to support the game and keep the servers running. Early Enrollment subscriptions are enough to keep that level of activity funded, if they do not decline.
The company was funded through two successful Kickstarters. The first raised over $300,000 to fund a demo of the game, and the second raised over $1 million to fund the game to Open Enrollment (see "
$1 Million for 'Pathfinder Online'
"). A year ago, Paizo publisher Erik Mona told ICv2 the game was on track to release on schedule (see "
Mona on the RPG Market
"
).
Stevens' announcement this week said that "delays in getting the game to market coupled with some anticipated funding falling through have left us about 75% short of the money we need to finish the game and bring it to Open Enrollment." The assets of the company are being shopped to other companies who could fund the completion of the game.
There has not been an update on the Kickstarter page; the announcement was posted on the Goblinworks site. Kickstarter rewards are still being worked on, according to Stevens' announcement. "Most of the Kickstarter Rewards were expected to be shipped with Open Enrollment," she wrote. "However, we have been working on them all along and will continue to deliver them to backers as they become available." But it appears to us that there will be some rewards, such as free subs during the Open Enrollment period, that cannot be fulfilled until the game is completed.
Stevens expressed hope that the project could still be completed. "This isn't a super rosy picture, but we aren't dead yet," she wrote. "The Goblinworks team and the Pathfinder Online community have been underdogs for pretty much the entire project's history. But we have persevered and survived... The team has brought the ball down the field to the red zone, and now we just need somebody to punch it over the goal line."