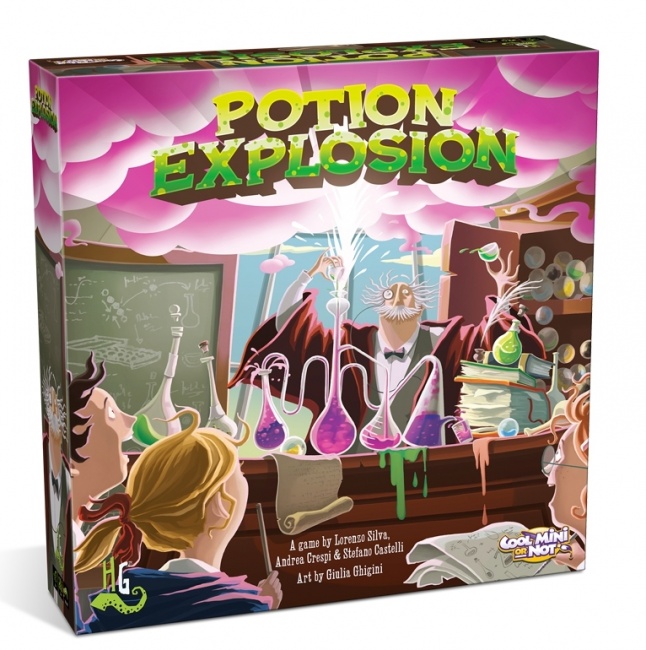 CoolMiniOrNot announced it will publish the English language version of Italian publisher Horrible Games' puzzle game
Potion Explosion
in Q1 2016.
(Click either image for larger view.)
The game is designed by Lorenzo Silva (Steam Park, Dungeon Fighter), Andrea Crespi and Stefano Castelli. Players take the role of students at a sorcery academy facing final exams in potions class. They must take an ingredient marble from the dispenser and watch the others fall. If marbles of the same color connect, they explode, and the player gets those marbles for their pile as well. Players then use their ingredient marbles to complete potions (potion of wisdom, sands of time, potion of prismatic joy) While finishing potions quickly is good, more complex potions are more valuable. The player with the most points from completed potions and skill tokens wins.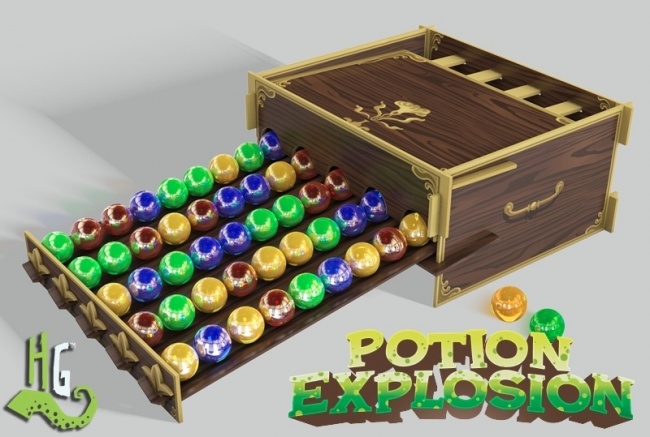 The box contains a cardboard dispenser (in several parts), 80 ingredient marbles (20 each of four colors), 64 potion tiles (8 kinds), 18 skill tokens, 18 "Little Help" tokens, 4 desk boards, and a first player token. The game is for 2 – 4 players. MSRP was not announced.
Ares Games recently announced it will be releasing another Horrible Games title, Co-Mix in October (see "'Co-Mix' Competitive Storytelling Game").