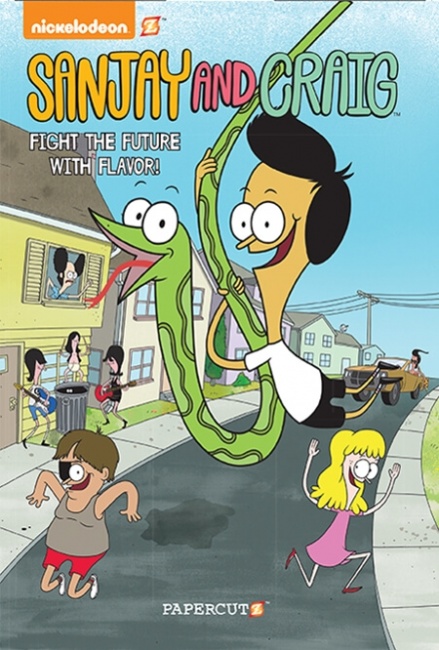 Sanjay and Craig #1: Fight the Future with Flavor GN
Publisher: Papercutz
Release Date: September 22, 2015
Price: $7.99 (TP)/$12.99 (HC)
Creator(s): Eric Esquivel (writer); Ryan Jampole, James Kaminski, Sam Spina (artists)
Format: 56 pgs., 6" x 9", Full-Color, Trade Paperback/Hardcover
ISBN: 978-1-6299-1302-5 (TP); 978-1-6299-1303-2 (HC)
Age Rating: All Ages
ICv2 Rating: 3.5 Stars out of 5
Based on the Nickelodeon cartoon series, this book follows the adventures of Sanjay, an Indian-American, and his snake friend. They eat tons of chicken wings at a restaurant owned by a man with hooks on both hands, find another dimension in their garbage disposal, and have to thwart the possible end of the world being brought on by tasting a samosa. A mad scientist creates living hot wings... what could possibly go wrong? Yes, it's that kind of series.
The artwork is as goofy as the stories, with Craig the snake being almost infinitely stretchable and flexible, and Sanjay willing and able to eat anything, as long as it isn't good and nutritious.
For kids who like the series, or who appreciate other more surreal Nickelodeon cartoons, this will be fairly attractive. The only weakness is that many of the inside jokes in the comic depend on things from the show, so it may leave newcomers behind. As an example, out of their context, the
Remington Tufflips
movie parodies are only somewhat funny.
The variations between artists don't lower the quality of the art. Not everyone will like the stories, but those who do will have a lot of fun with this collection.
Suitable for all but the very young, due to some strange cartoony violence.
--
Nick Smith: Library Technician, Community Services, for the Pasadena Public Library in California.