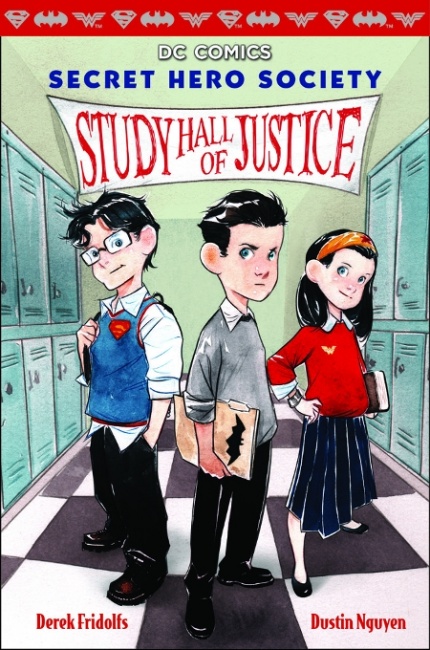 DC Comics: Secret Hero Society #1: Study Hall of Justice TP
Publisher: Scholastic Inc.
Release Date: January 2016
Price: $12.99
Creator(s): Derek Fridolfs (writer); Dustin Nguyen (artist)
Format: 176 pgs., Color, Trade Paperback
ISBN: 9-780-5458-2501-6
Age Rating: All-Ages
ICv2 Rating: 3.5 Stars out of 5
This book follows in an odd trend of having "kiddie" versions of superheroes. This worked best with comics like
Teen Titans
, but this new book is an attempt to do a wildly non-canonical version of Batman, Superman and Wonder Woman as middle-schoolers.
The premise is total nonsense [somehow, Clark Kent, Bruce Wayne and Diana Prince, as young teens, all end up at a school for villains], but Derek Fredolfs and Dustin Nguyen turn in an entertaining story. It might be even better if they'd simply created new characters, because it is often distracting to have established characters, either villains or heroes, played for laughs in this manner. The reader has to actively forget whatever they know about the characters in order to enjoy certain aspects of the story.
The resulting book is halfway between
Tiny Titans
and
Jedi Academy
, and in this case it's at least sometimes a good thing. Batman and Wonder Woman, even as tweens, were a poor fit for the story.
Nguyen's art is good for the purpose, but not as interesting as his work on
Descender,
aimed at an older audience. Fridolfs' work has moments here, as he portrays a a young Clark Kent and Bruce Wayne interacting with wildly different personalities.
So, this book is best suited for younger readers, and kids of grades 3+ should be able to handle the reading level. Older readers may find it less appealing.
Suitable for all but the very young, due to some strange cartoony violence.
--
Nick Smith: Library Technician, Community Services, for the Pasadena Public Library in California.