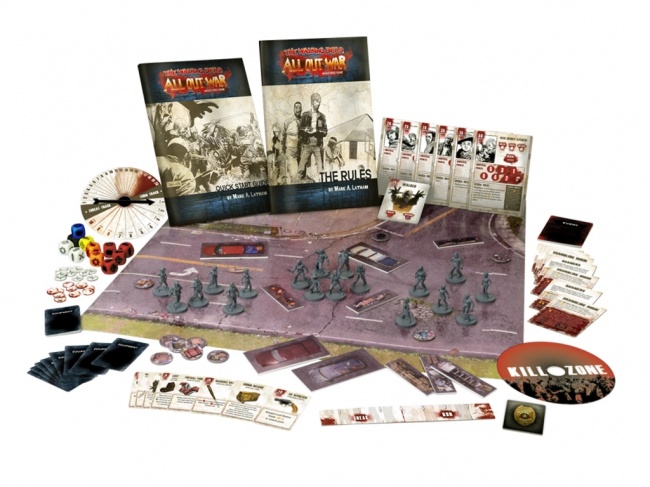 Mantic Games has shared additional details on its upcoming
Walking Dead: All Out War
two-player miniatures game (see "
The Walking Dead' Goes Mini
"). The game is currently seeking funding on Kickstarter and is offering retailer exclusives to both store owners who support the campaign and those that support the game's trade release.
(Click any image for larger view.)
The game pits two groups of survivors from the bestselling Walking Dead comic series in a competition over dwindling supplies, all while attempting to avoid the ever-present walkers, which are attracted by noise. The walkers are controlled by an AI system, and will attack anyone that comes within reach.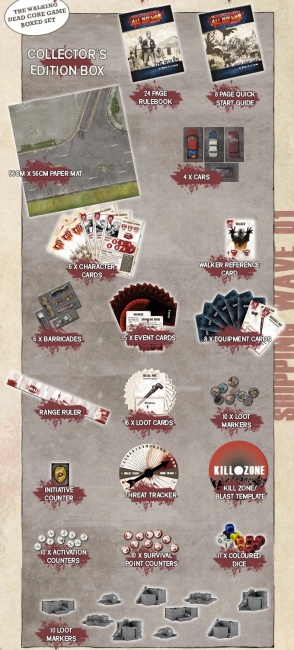 The base game includes a paper game mat, 6 character cards, 4 cards, a walker reference card, 8 equipment cards, 15 event cards, 6 barricades, 4 cars, 16 loot cards, 10 loot markers, a range ruler, an initiative counter, a threat tracker, a kill zone/blast template, 10 activation counters, 10 survival point counters, 11 colored dice, a 24-page rulebook, and 8-page quick start guide and various unpainted grey plastic miniatures. MSRP on the base game is $50.00. Backers, including retailers, will receive their games before general trade release in Q4.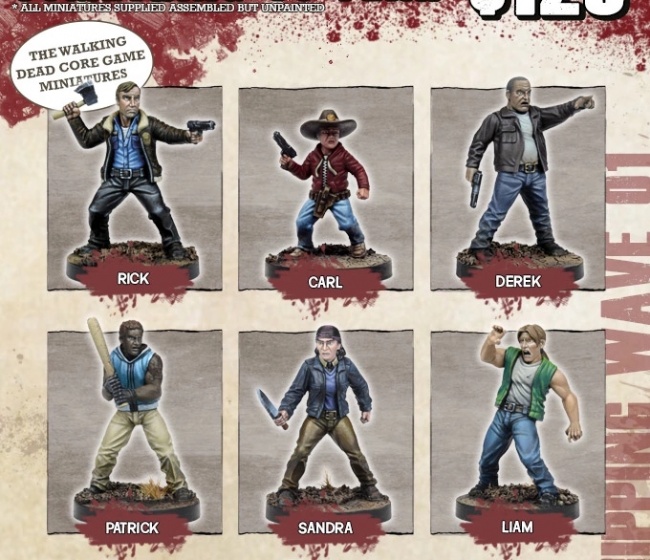 The Kickstarter campaign includes a retailer level for 10 copies of the base game and 10 of each unlocked Kickstarter exclusive miniatures.
The Kickstarter also features an Atlanta expansion with includes 4 character cards, 12 equipment cards, 4 event cards, 4 loot cards, card counter, templates and scenery, an Atlanta mat, various unpainted grey plastic miniatures and an expansion rulebook. MSRP for the expansion is $20.00.
After trade release, additional new products will be made exclusively available to trade customers. The only way fans will be able to purchase these products will be at retail stores.
Mantic also plans to support the line with in-store demo games and organized play.
The Kickstarter has raised more than $205,000 from nearly 1,750 backers as of this writing, with 27 days to go.