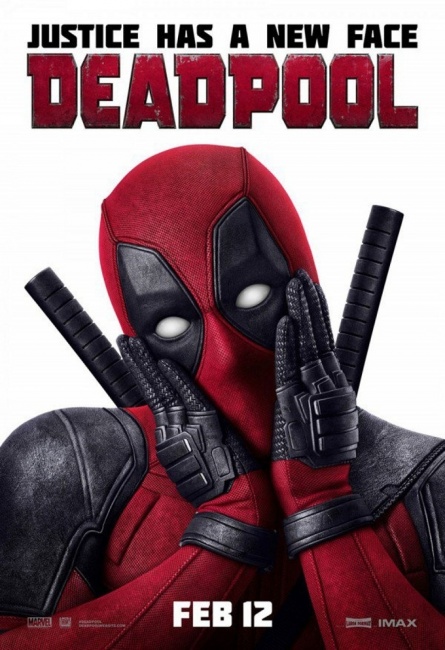 Tim Miller's
Deadpool,
which stars Ryan Reynolds as the snarky "Merc with a Mouth," obliterated February President's Day weekend records with a stunning $150 million debut that was double the $70-75 million estimates of many box office analysts. In spite of
Deadpool's
blistering debut, the overall total of the top 12 films was down 2% from the same weekend last year when
Fifty Shades of Grey
debuted with $85.2 million. The small decline can be attributed in part to winter weather over the Eastern half of the country and in part to the lackluster performances of two other newcomers, the romcom
How To Be Single
, and the fashion satire
Zoolander 2
.
Deadpool
got off to an excellent start with $12.7 million on Thursday night and earned a muscular $47.5 million on Friday (which was 17.3 million more than
Fifty Shades of Grey
earned on its first Friday). Revenue dipped 10.4% on Saturday as the R-rated comic adaptation brought in just under $43 million. Estimates for the 3-day weekend total are in the $135 million range, while the 4-day total should come in somewhere between $150 and $156 million.
Deadpool's
potent debut is a major win for actor Ryan Reynolds, who lobbied for almost 10 years to get Fox to make the
Deadpool
movie a hard "R." Fox did agree, but kept the budget for
Deadpool
down to a bare bones (for a major superhero release) $58 million. Vindication for Reynolds, who stumbled badly in Warner Bros. ill-conceived
Green Lantern
film, comes in the form of a number of shattered box office records (not accounting for inflation) including "Largest February Opening Weekend" (previously held by
Fifty Shades
at $85 million), "Largest 4-Day President's Day Weekend" ($93 million by
Fifty Shades
), "Largest R-Rated Opening" ($91.7 million by
The Matrix Reloaded
), Largest R-Rated Comic Adaptation Opening Weekend ($70.8 million from 300), "Largest Winter Season Opening Weekend" ($89.2 million by
American Sniper
), "Largest Opening for a First Time Feature Director," and "Largest Opening Ever for 20th Century Fox" ($108.4 million by
Star Wars: Revenge of the Sith
).
The story is much the same overseas, where
Deadpool
racked up $125 million in ticket sales from 61 markets including the biggest opening of all time in Russia. Domestically
Deadpool's
3-Day $135 million total makes it the #7 comic book movie debut of all time trailing just the two
Avengers
movies, the last two
Dark Knight
movies,
Iron Man 3
and
Spider-Man 3
.
Deadpool's
massive opening also put to rest the notion that comic book movies are on the wane, or that a hard "R" superhero film would appeal only to the Comic-Con crowd. In fact
Deadpool
has set a very high bar for the 8 other major superhero films that are set to drop later this year, and the Merc with a Mouth doesn't appear to anywhere near done yet.
Deadpool
, which has been well received by the critics (currently 84% positive on review aggregator Rotten Tomatoes), earned an "A" CinemaScore from all age groups in the opening weekend audience, with 92% of those surveyed saying they would recommend the film to a friend, and 76% checking the "Excellent Box," a figure very close to that earned by
Star Wars: The Force Awakens
.
Deadpool
didn't leave much oxygen in the room for other films. The audience for the family-oriented
Kung Fu Panda 3
was largely immune to the appeal of the R-rated
Deadpoo
l, and
Panda 3
dropped just 7.5% as it earned $19.7 million over the 3-day holiday to finish in second place.
Weekend Box Office (Studio Estimates): February 12-14, 2016

Film

Weekend Gross

Screens

Avg./Screen

Total Gross

Wk#

1

Deadpool

$135,050,000

3,558

$37,957

$135,050,000

1

2

Kung Fu Panda 3

$19,650,000

3,844

$5,112

$93,912,387

3

3

How to Be Single

$18,750,000

3,343

$5,609

$18,750,000

1

4

Zoolander 2

$15,650,000

3,394

$4,611

$15,650,000

1

5

The Revenant

$6,900,000

2,266

$3,045

$159,164,599

8

6

Hail, Caesar!

$6,590,000

2,248

$2,931

$21,354,970

2

7

Star Wars: The Force Awakens

$6,194,000

1,810

$3,422

$914,838,964

9

8

The Choice

$5,250,000

2,631

$1,995

$13,259,551

2

9

Ride Along 2

$4,130,000

1,564

$2,641

$82,661,235

5

10

The Boy

$2,913,000

1,450

$2,009

$30,778,587

4

The romantic comedy How to Be Single ended up a disappointing third with $18.8 million over the 3-days. The $38 million production should have some "legs" (comedies typically hang around a bit longer than other genre films), but a lackluster "B" CinemaScore doesn't bode particularly well.

Things look even worse for the Ben Stiller-starring Zoolander 2, which took in $15.7 million for the 3-day weekend, well under what analysts had expected. While How to Be Single managed a 47% positive rating on Rotten Tomatoes, Zoolander 2 is at just 23% positive, a far cry from the 64% positive the first Zoolander earned back in 2001, and the poor "C+" CinemaScore than Zoolander 2 earned this weekend does not augur well for the film's future prospects.

Alejandro Inarritu's The Revenant continued its strong box office performance as it dropped just .6%, earning $6.9 million and bringing its domestic total to $159.2 million in its eighth weekend of release. The Coen Brothers' behind-the-scenes Hollywood misfire Hail, Caesar posted the biggest drop in the top ten, falling 42% as it brought in $6.6 million. With a cost of just $22 million, Hail, Caesar won't lose much, but it doesn't appear to have a chance to make much either.

J.J. Abrams' Star Wars: The Force Awakens dropped 11.2% as it earned $6.2 million driving its record domestic total (not adjusted for inflation) to $915 million.

Be sure to check back here next week to see if Deadpool can hold off a challenge from two widely-released newcomers, the religiously-themed Risen, and the Jesse Owens biographical sports saga Race.