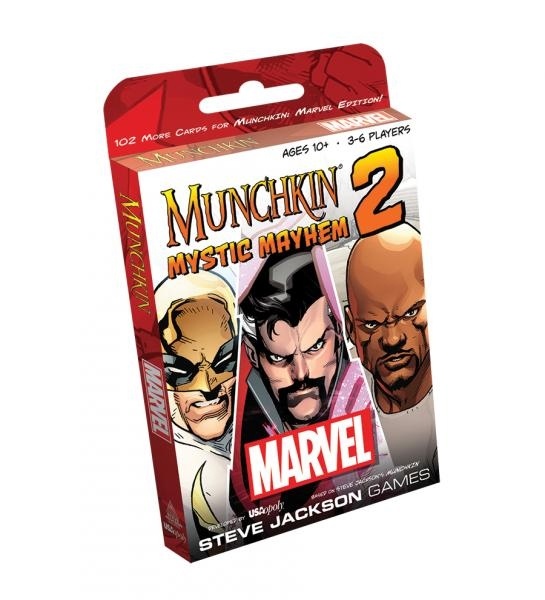 USAopoly has announced two expansions to Munchkin: Marvel Edition, their Marvel Comics version of the popular game Munchkin from Steve Jackson Games.

(Click any image for larger view.)

Munchkin Marvel 2: Mystic Mayhem will be the first expansion to the USAopoly release. It features Doctor Strange and The Defenders, with villains such as Baron Mordo and more. It includes 90 Door and Treasure cards, 12 Oversized Dungeon Cards, new threats and Allies, and instructions. It is available August 2016.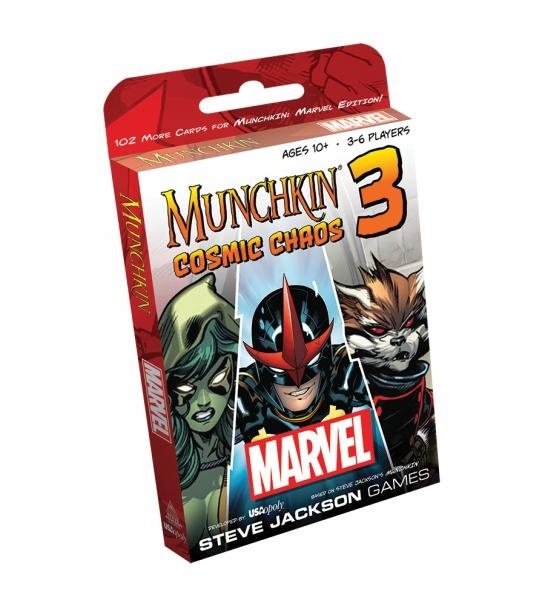 Munchkin Marvel 3: Cosmic Chaos is the cosmic-themed expansion of Munchkin: Marvel Edition. Players can team up with The Guardians of the Galaxy, taking on heavies like The Beyonder and Thanos. New Portals can send players to far-flung Dungeons like Xandar and Knowhere. Like the previous expansion, it contains 90 Door and Treasure cards and 12 Oversized Dungeon cards in addition to its instructions. Cosmic Chaos is available October 2016.
USAopoly has not yet announced MSRP for the expansions.
Munchkin: Marvel Edition is due in stores in April (see "'Munchkin: Marvel Edition'").