There are some strong trends driving increased exposure for manga right now, and they're having a major influence on sales. The result has been a faster growth rate for 2015, and growing momentum.
Based on information developed by ICv2 from both the comic store and book channels, manga sales were growing at a 13% rate in the first eight months of 2015 (see "ICv2 Presents White Paper at New York Comic Con Event"), and although our final analysis of 2015 sales isn't yet complete, it seems clear that the full year numbers will show the best growth rate in 10 years.
The growth is across channels, with increased sales in the comic, book, mass, and library channels, VIZ Media Senior Director, Sales and Marketing Kevin Hamric said in an interview this week (see " Interview with Viz's Kevin Hamric, Part 2"). And with three consecutive years of growth (after a half decade of declines), and an accelerating growth rate, there's clearly something happening in manga. What are those underlying trends driving growth?
One driver may be the increased availability of anime, although it's not through basic cable channels as it was during the boom years. Now the growth of streaming anime is providing a pipeline of video content that supports manga sales, and with shortening windows between Japanese and American release (approaching zero, in some cases), a new anime can make a big impact around the world at the same time. "I have to say it's often the case that people don't even know about the manga until the anime comes out," Dark Horse Manga Editor Carl Horn told ICv2 (see "Interview with the Dark Horse Manga Brain Trust, Part 2").
Most agree that the impact of a streaming show still doesn't have the impact that a show on Cartoon Network used to have, but the timing is a big plus, and it's a new and growing channel of distribution that's increasingly not only reflected by niche player Crunchyroll, but also from bigger services such as Netflix and Hulu. Netflix is even going so far as to commission exclusive anime content (see "Netflix in Deal with Production I.G. for 'Perfect Bones' Anime"), an exciting move that can only serve to increase the visibility of Japanese pop culture.
Hits are certainly a driver of sales, and following quickly on the ascendance of Attack on Titan from Kodansha, two new series from VIZ Media are taking the country by storm: One-Punch Man, which appears to be developing into a major hit in both Japan and around the world, and Tokyo Ghoul, which is also growing in popularity.
Format is also helping, with older content repackaged in omnibus volumes selling at multiples of the original release in some cases, according to Dark Horse Vice President Trade Sales Michael Martens.
But perhaps the biggest trend is the growing acceptance of all kinds of geek culture, of which manga and anime are just one part. "[P]eople of our age, we're passing down to our kids what we grew up with," VIZ's Hamric said. "Pop culture and manga and anime are making its way into way into the accepted mainstream of the world, and not looked down upon any longer. And, I'm seeing this globally, not just here in North America."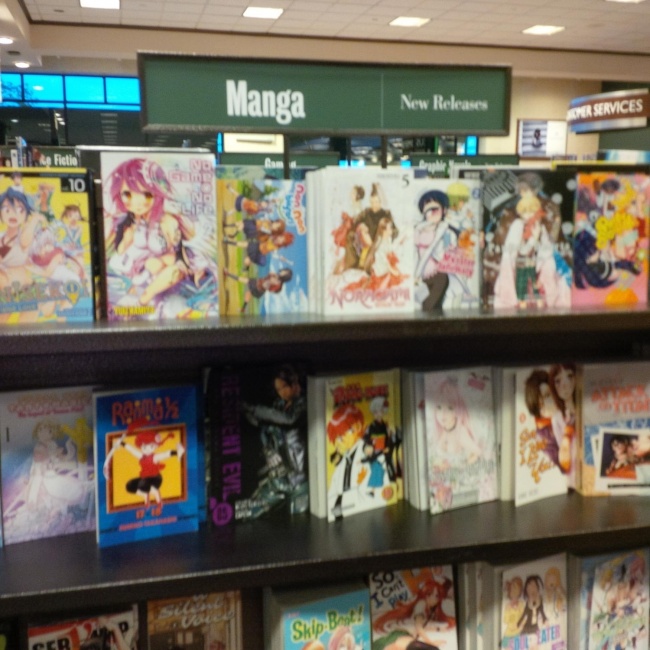 That growing acceptance of geek culture leads to increased display at major retailers. "It's a good time to be in the industry and we've got a lot of people jumping on the bandwagon right now, like you've written about with Walmart and everybody from all channels," Hamric said. "A lot of people are paying attention to us right now." Barnes & Noble dramatically increased space for manga last year (see "
Barnes & Noble Adds New Release GN Displays
"), and Walmart and other mass merchants are also giving increased space to the category (see "
Viz Reviving Manga in Mass Merchants
").
And it's not just sales on manga or other geek products that are making major retailers take notice. It's also the type of customers that buy geek products, what else they buy, and the virtues of having product lines that bring those customers back over and over.
"One of the things that's a fallout of geek is that we are older, we have our disposable income, and because of that when we go into a store we're usually not there for just one purpose," McFarlane Toys CEO Todd McFarlane told ICv2 when discussing his manga and anime-based figure line (see "ICv2 Interview: Todd McFarlane on his Anime/Manga Line"). "So the ticket of our ilk is pretty good, because after we're done buying our geeky toys we end up buying a lot of electronics, and car parts, and high end other products that they make a lot of money on. Sometimes having some of that data has looked at my product, without ever saying it, like a loss leader. It's like eggs and milk. Get them in the door and they'll buy steaks eventually. My stuff is like the eggs and milk"
There's another trend coming down the pipe that's also likely to raise the profile of anime and manga even further. Hollywood is taking notice of the global popularity of Japanese pop culture, and the results of that interest are going to start hitting screens soon.
Ghost in the Shell, starring Scarlett Johansson, is fairly far along (see "'Ghost in the Shell Gets New Writer"), as is Death Note, which is being cast (see "Geek Movie News Round-Up"). At earlier stages of development are Naruto (see "Lionsgate Preps 'Naruto' Movie"), and Akira (see "Starting Over on 'Akira' Movie").
So as we wrap up our special week of manga coverage for Manga Week (see "ICv2's Manga Week 2016" for a full list of articles), it definitely looks like it's going to be an interesting year for manga, with a lot of powerful trends putting the category on the move.