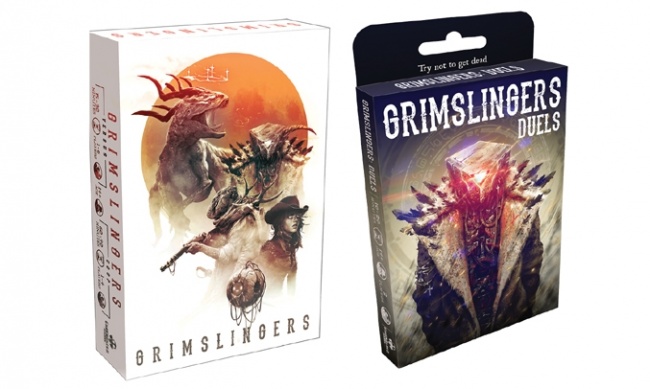 Greenbrier Games has announced that it will release
Grimslingers
and
Grimslingers Duels
, a pair of card games set in a dark Western game universe with strong elements of science fiction and fantasy.
In both games, players take on the roles of newly sired witches who have been imbued with powers by The Iron Witch, who now requires that all of them prove their worth. Each player uses elemental spells, wits, and luck to overcome their opponents, and each have access to unique "signature" spells that add re-playability and variance to the game. One other unique feature is a hidden "reveal" mechanic which allows for simultaneous play that resolves in an order that facilitates bluffing and builds suspense.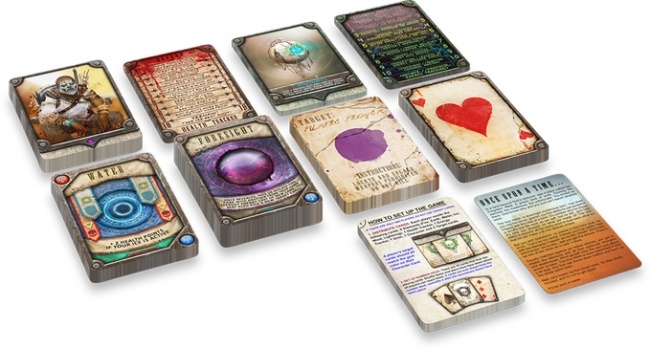 Grimslingers
, the base game, has two modes of play, a Co-op campaign mode for up to four players (including a solo version), which takes 60 to 90 minutes to play; and a free-for-all Versus mode, which plays much more quickly at 15 to 30 minutes for two to six players.
The game includes 80 Item cards, 62 Spell cards, 41 Creature cards, 30 Target cards, 18 Tracker cards, 12 Archetype cards, 10 Grimslinger cards, 10 Number and Event cards, 1 Hank the Hunter card, a Valley of Death map, a red meeple, a six-sided die, a story booklet, and a rules booklet. MSRP is $29.99.
The micro-game Grimslingers: Duels is a great introduction to the game and has everything needed for two players to square off in a one-on-one fight, taking up to 20 minutes. Greenbrier Games is giving away copies of the microgame at Gen Con to promote the game system. Normal MSRP is $9.99.
Grimslingers was funded on Kickstarter in a campaign that ended in 2015. The campaign raised the equivalent of US$31,744 from 659 backers (roughly US$48.17/backer).
Greenbrier picked up the game for publishing; the official release of the game to stores is this September.
Check out the cool Grimslingers images in the Gallery below.