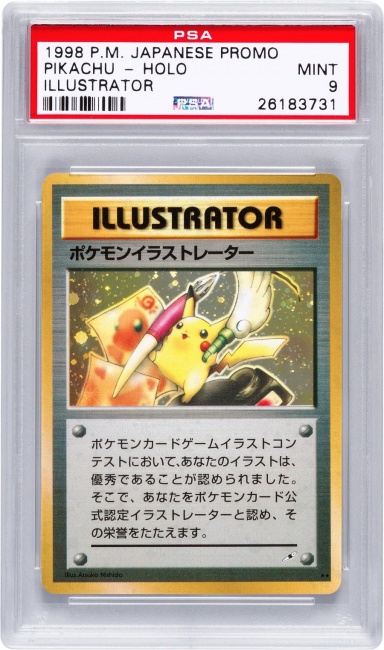 This week a rare Japanese Pokemon TCG card sold for $54,970.00 at Heritage Actions.

The holographic Pokemon Illustrator trainer card, which features Pikachu and is illustrated by Atsuko Nishida, is graded PSA 9 Mint. The card is one of the rarest in Pokemon TCG history, as it was created as a prize in an illustration contest for CoroCoro Comic. The card was distributed to three first place winners and 20 second place winners, announced in the January 1998 issue. With the magazine giving away the card for two other contests that year, there were a maximum of 39 cards distributed. It is unknown how many still exist.

Only 10 PSA certified copies are known. A PSA Mint-9 copy sold for $90,000 in 2014.

Heritage had a leading Pokemon card specialist asses the value before the auction, "the lot has always been a five-figure card. The Pikachu Illustrator first sold in the early 2000s for around $23,000. No card has as many unique nuances, peaking the interest of anyone who discovers its rare existence."

Heritage asserts that the value of rare Pokemon cards are on the rise due to the popularity of the recent Pokemon Go mobile game.