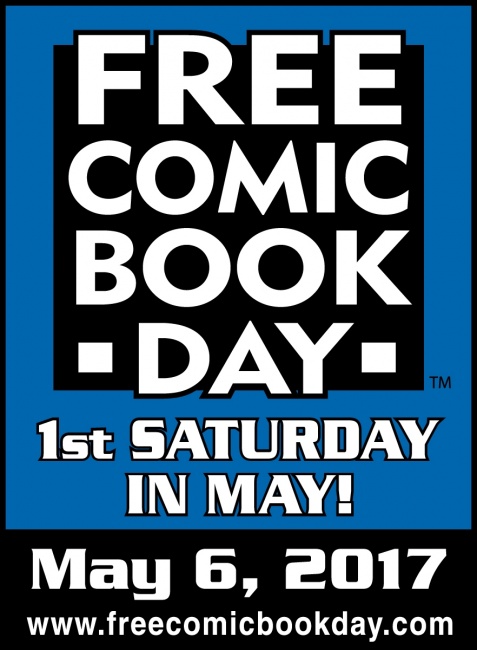 The 16th Annual Free Comic Book Day (FCBD) will be May 6, 2017, and Diamond Comic Distributors has announced the 12 Gold Sponsor comic books, the lead titles supporting the event's goal of introducing new readers to comics. The Gold Sponsor titles include all ages books, Hollywood tie-ins, and top secret events. The 38 Silver Sponsor comic books will be announced next week, once again bringing the total books on offer to 50.
The 12 Gold Sponsor titles include:
Betty & Veronica #1 FCBD 2017 Edition (Archie Comic Publications)
Bongo Comics Free-For-All FCBD 2017 Edition (Bongo Comics)
BOOM! Studios Summer Blast – FCBD 20147 Edition (BOOM! Studios)
Briggs Land / James Cameron's Avatar – FCBD 2017 Edition (Dark Horse Comics)
DC Comics Gold Book – FCBD 2017 Edition (DC Entertainment)
Star Trek: The Next Generation: Mirror Broken - FCBD 2017 Edition (IDW Publishing)
I Hate Image - FCBD 2017 Edition (Image Comics)
FCBD Marvel Secret (Marvel Comics)
Rick & Morty - FCBD 2017 Edition (Oni Press Inc.)
Doctor Who - FCBD 2017 Edition (Titan Comics)
X-O Manowar Special - FCBD 2017 Edition (Valiant Entertainment LLC)
The Legend of Zelda: Twilight Princess? Ocarina of Time - FCBD 2017 Edition (VIZ Media LLC)
Last year's Gold Sponsor books can be seen here "FCBD 2016 Gold Sponsor Comics Announced."
Click on the Gallery below for all 12 covers.
Last year, over 2,200 stores worldwide participated in FCBD events, and preorders for FCBD titles topped six million (see "FCBD Preorders Top 6 Million").