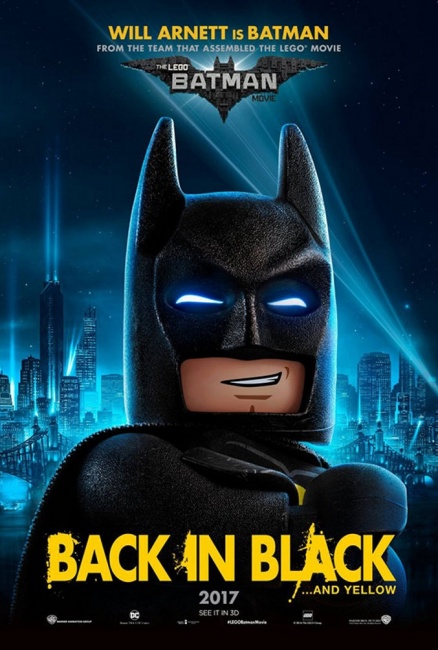 Warner Bros.' animated
LEGO Batman Movie
opened well short of expectations, but still finished ahead of two other newcomers,
Fifty Shades Darker
and
John Wick: Chapter 2
, both of which over-performed. Together the trio of new films pushed the box office to its best weekend total of 2017 so far, $176.9 million, a whopping 99.3% increase over the same frame a year ago when
Kung Fu Panda 3
topped the charts for the second weekend in a row with $21.2 million.
The LEGO Batman Movie
was expected to open well over $60 million, but it looks to finish the frame with $55.6 million, which is well below the opening of Warner Bros. first
LEGO
opus,
The LEGO Movie
, which bowed to $69 million in 2014 (and proved eerily prescient with its "President Business" character). The effect of weather on box office performances is often overstated, but this time I think the major storms on the East coast definitely had an effect on the opening of 2017's first superhero film.
With a solid "A-" CinemaScore from opening weekend viewers and an excellent 91% positive rating on review aggregator Rotten Tomatoes,
The LEGO Batman Movie
should demonstrate some great legs over the coming weeks, especially since it won't face much direct animated competition (with the exception of
Rock Dog
, which is slated to open on February 24). Opening weekend audiences for Warner Bros. second
LEGO
film skewed slightly female (52%), with a large percentage of the crowd (38%) under 18, and 52% under 25.
The LEGO Movie
finished its domestic run in 2014 with $257.7 million, and though it will be an uphill climb to match that number,
The LEGO Batman
film will likely make it past the $200 million mark here in North America, where
The LEGO Movie
took in about 55% of its global total. Overseas the square-jawed plastic Dark Knight managed to earn $37 million from debuts in 60 countries, with a few major markets like China (March 3), Australia (March 30), and Japan (April 1) yet to come.
The R-rated erotic sequel
Fifty Shades Darker
debuted above expectations with $46.8 million, well behind
Fifty Shades of Grey's
$85.2 million bow in 2015. As might be expected opening weekend audiences for
Fifty Shades Darker
were overwhelmingly female (70%) and fairly young with 56% under 30—and they gave the film an OK "B+" CinemaScore, which is a far better reception than the film received from the critics, whose opinions resulted in a paltry 10% positive rating on Rotten Tomatoes. Thirty-four percent of the crowd was Caucasian, while 21% was Hispanic, and 14% identified as African-American (the remaining 32% must have declined to provide this demographic information).
Fifty Shades of Grey
dropped a huge 74% in its second frame, but it had a lower CinemaScore ("C+"), and opened on a weekend that included Valentine's Day, so it would appear unlikely that
Fifty Shades Darker
will fall quite so drastically. Overseas the
Fifty Shades
sequel delivered big time, earning $100.1 million from 57 markets, the fourth highest R-rated opening ever behind
50 Shades of Grey
($157 million),
Deadpool
($132.2 million), and
The Matrix Revolution
($117.6 million).
Third place went to the well-reviewed (91% positive) action film
John Wick: Chapter 2,
which outpaced expectations with a $30 million bow, more than double the $14.4 million earned by the first
John Wick
movie in February of 2014.
John Wick: Chapter 2
earned a solid "A-" CinemaScore from an audience that was overwhelmingly male (64%), a demographic split that was identical to that of the first
John Wick
film. Don't be surprised if
John Wick 2
manages to more than double the domestic total of the first
Wick
film, which ended its North American run with $43 million.
Weekend Box Office (Studio Estimates): February 10-12, 2017

Film

Weekend Gross

Screens

Avg./Screen

Total Gross

Wk#

1

The LEGO Batman Movie

$55,635,000

4,088

$13,609

$55,635,000

1

2

Fifty Shades Darker

$46,797,825

3,710

$12,614

$46,797,825

1

3

John Wick: Chapter Two

$30,015,000

3,113

$9,642

$30,015,000

1

4

Split

$9,321,110

2,961

$3,148

$112,293,380

4

5

Hidden Figures

$8,000,000

2,667

$3,000

$131,452,250

8

6

A Dog's Purpose

$7,365,335

3,025

$2,435

$42,595,010

3

7

Rings

$5,820,000

2,931

$1,986

$21,492,286

2

8

La La Land

$5,000,000

2,065

$2,421

$126,010,345

10

9

Lion

$4,083,000

1,337

$3,054

$30,368,722

12

10

The Space Between Us

$1,760,000

2,758

$638

$6,595,158

2
M. Night Shyamalan's Split slipped to #4 in its fourth weekend in theaters, but still dropped just 35.4% as it added $9.3 million to bring its domestic total to $112.3 million. Split remains a good bet to finish 2017 as the top horror film of the year, though it is still awfully early to make that claim.

Also posting small drops were the Oscar hopefuls Hidden Figures, which finished fifth, declining just 21.5%, as it added $8 million to bring its North American total to $131.5 million, and the jazz musical La La Land, which finished at #8, adding $5 million to bring its domestic take to $126 million. Meanwhile the other Oscar hopeful in the top ten, the Weinstein Company's Lion actually posted an 8.6% increase in spite of losing 68 theaters as it earned $4 million to bring its North American total to $30.4 million.

The star-crossed A Dog's Purpose, which had its debut blunted by trumped-up reports of on-set animal abuse, continues to show some resilience as it dropped just 29.9% to finish in sixth place with $7.4 million to bring its total to $42.6 million.

Paramount's horror sequel Rings dropped 55.2% in its second frame, earning $5.8 million as it slipped from second to seventh place, while the teen-targeting science fiction/romance The Space Between Us tumbled all the way to #10 in its second weekend, pretty much insuring that the $30 million production will finish in the red.

One interesting note from overseas concerns the Vin Diesel-starring xXx: The Return of Xander Cage, which will likely end its domestic run with a disappointing $48 million, posted the largest February opening ever for an American film in the Chinese market, debuting with $61.9 million (too bad that Paramount's share of that will just be 25%).

Be sure to check back here next week to see if the LEGO Batman Movie will retain its top spot in the face of competition from a trio of newcomers led by the Matt Damon-starring The Great Wall (which has already earned $224.6 million overseas, plus the Warner Bros. comedy Fist Fight, which stars Ice Cube, and Gore Verbinski's psychological thriller A Cure for Wellness.