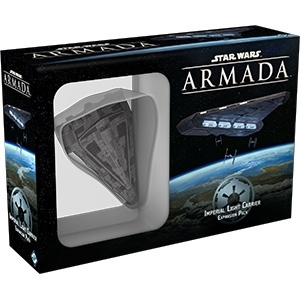 Fantasy Flight Games has revealed two new expansions as the sixth wave of models for the
Star Wars: Armada
miniatures game: The
Imperial
Light Carrier Expansion Pack
for the Imperials and the
Hammerhead Corvettes Expansion Pack
for the Rebels. Both sets are scheduled for Q2 of this year.
The Imperial Light Carrier Expansion Pack includes the Quasar Fire-class cruiser as a pre-painted medium base model. Designed as a light fighter-carrier, the Quasar Fire includes a three-dice forward battery and six hull. The set comes with ten upgrades including a new commander, Admiral Sloane, and the first dual-slot upgrade for the game, the Boarding Troopers.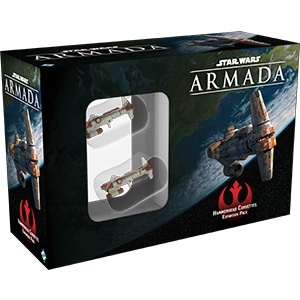 On the Rebel side, the
Hammerhead Corvettes Expansion Pack
comes with two small-base pre-painted
Hammerhead
-class corvettes like those depicted in the
Rogue One
film. This small ship packs a three-dice battery that can be enhanced with missiles. This expansion also has 14 upgrade cards, including the dual-slotted Boarding Engineers upgrade.
Both new ships are designed for up-close fighting and introduce boarding parties to the game.
The fifth wave of expansions was released late last year (see "More 'Fifth Wave' Releases for 'Star Wars: Armada'").
Click the Gallery below for images of the expansion components.