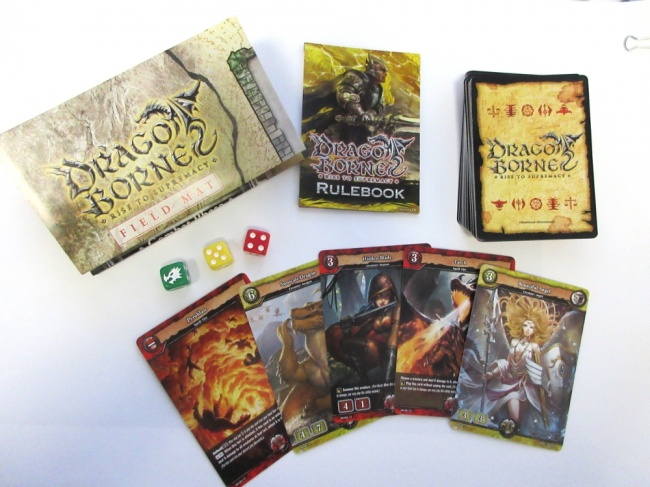 At the GAMA Trade Show, Bushiroad Inc, unveiled its new high-fantasy trading card game
DragoBorne – Rise to Supremacy,
designed by Mike Elliott (
Thunderstone, Quarriors!, Dice Masters
).
Bushiroad teased DragoBorne earlier this year (see "Bushiroad Teases New TCG for Summer"), and announced it would be released in English first to target the international market. The trading card game adds a unique dynamic with the use of dice, which can be used to empower cards or unlock different powers. The game is aimed at an older demographic (older teens and 20s) than Bushiroad's flagship Cardfight!! Vanguard.
Players assume the role of a Dragoborne, warriors imbued with power from the Dragolords. The Dragolords - descendants of the legendary Progenitor Dragon - fought cataclysmic battles in the past that threatened to destroy the world, so they agreed instead to found their own nations with its own champions and let their armies battle for victory instead. Two players face off, each controlling three forts that represent their life total. The goal is to destroy all of their opponent's forts by casting spells and summoning creatures, then activating their cards with dice roles.
The game will launch on August 4 with three trial decks: Trial Deck Vol. 1 – Shadow Legion, Trial Deck Vol. 2 - Mystical Hunters, and Trial Deck Vol. 3 – Alpha Dominance. The first Booster Pack, Vol. 1 – Rally to War will follow on August 17. Each Trial Deck includes 53 cards, which include 21 unique cards (6 exclusive to the trial deck), as well as 3 dice, a paper playmat, and a rulebook. MSRP will tentatively be $14.00 /deck. The Booster Set includes 120 unique cards. There are 8 card per pack. MSRP will be between $3.00 – and $3.50.
Trial Deck 4 and Booster Pack 2 will release in November.
To build interest in the game, Bushiroad is hosting demos at thirty pre-selected game stores nationwide in April. It will follow this with demos at 200 U.S. game stores in July. Participants will receive a free demo deck. Retailers may contact Bushiroad directly about hosting an event. Bushiroad will also support the game with Launch Tournaments and monthly shop tournaments starting at the end of August. Bushiroad will also host side event tournaments in the Bushiroad Championship Series (see "Bushiroad Championship Series 2017").