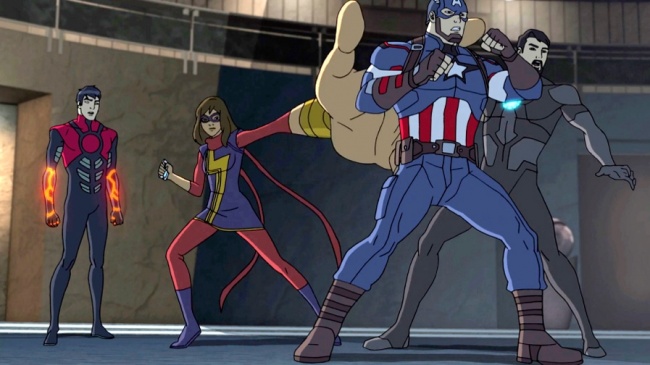 Confessions of a Comic Book Guy is a weekly column by Steve Bennett of Super-Fly Comics and Games in Yellow Springs, Ohio. This week, Bennett examines the media's reaction to statements made by Marvel's David Gabriel during an interview with ICv2, and what may happen next.
Last week, ICv2 ran an interview with Marvel SVP of Sales and Marketing David Gabriel ("Marvel's David Gabriel On The 2016 Market Shift") where Gabriel spoke about the feedback he received regarding the publisher's recent decline of sales while at the recent Marvel Retailer Conference. "What we heard was that people didn't want any more diversity. They didn't want female characters out there. That's what we heard, whether we believe that or not. I don't know that that's really true, but that's what we saw in sales."
"We saw the sales of any character that was diverse, any character that was new, our female characters, anything that was not a core Marvel character, people were turning their nose up against. That was difficult for us because we had a lot of fresh, new, exciting ideas that we were trying to get out and nothing new really worked."
As you might imagine there was a bit of a backlash, to put it mildly. The comments went viral and the story was picked up by web sites way beyond the Usual Suspects (Bleeding Cool, The Mary Sue, Jezebel, etc.) They ranged from the mainstream to the niche, foreign and domestic; Slate, Entertainment Weekly, RT, The Huffington Post, The Independent, The Guardian, Radio Times, NME and Breitbart News. And predictably the key word in most of the headlines was "blame."
Sometimes it came in the context of The Guardian's "Is diversity to Blame for Marvel's sales slump - or just a lack of imagination?", but more often it was variations of io9's "Marvel VP of Sales Blames Women and Diversity for Sales Slump" or Fusion's "Black Panther and Ms. Marvel Nominated for Hugo Awards Days After Marvel VP Blamed Them for Sales Slump".
After Gabriel clarified his earlier comments with this statement: "Discussed candidly by some of the retailers at the summit, we heard that some were not happy with the false abandonment of the core Marvel heroes and, contrary to what some said about characters 'not working,' the sticking factor and popularity for a majority of these new titles and characters like Squirrel Girl, Ms. Marvel, The Mighty Thor, Spider-Gwen, Miles Morales, and Moon Girl, continue to prove that our fans and retailers ARE excited about these new heroes. And let me be clear, our new heroes are not going anywhere! We are proud and excited to keep introducing unique characters that reflect new voices and new experiences into the Marvel Universe and pair them with our iconic heroes."
Variety characterized it as "Marvel Exec Backpedals After Suggesting Diversity to Blame for Comic Book Sales Slump." Which really isn't fair, because as the piece on Vox put it in one of their subheadings, "The context of Gabriel's interview is really, really important" because David Gabriel was not blaming diversity, he was only repeating what retailers, at least some of the retailers, at the conference were saying.
As to why, they said that, well, I'd have to ask them. But I did note, with interest, the phrase Gabriel used was retailers "didn't want any more diversity," as in they didn't want any further diversity. Which I'd like to believe suggests they weren't expressing hostility towards the idea of diversity as much as they wanted the return of the classic characters, which they associate with higher sales. Though I would tell them, as the Fusion piece pointed out "While it's true that Marvel's sales have been steadily declining for some time now, the drop has been seen across its entire portfolio, not just with titles starring leads who aren't straight, white men."
I don't believe as Vox does that Gabriel's comments were a "gaffe," but it definitely was a "public relations nightmare" for Gabriel and Marvel, and especially for the Walt Disney Company, which has been named one of the Top 50 Companies for Diversity by Diversity Inc (a company whose "mission is to bring education and clarity to the business benefits of diversity.") Bleeding Cool, which has been feasting on this story for over a week now, seems absolutely convinced we'll see Marvel reverse course and put the focus squarely back on their traditional heroes.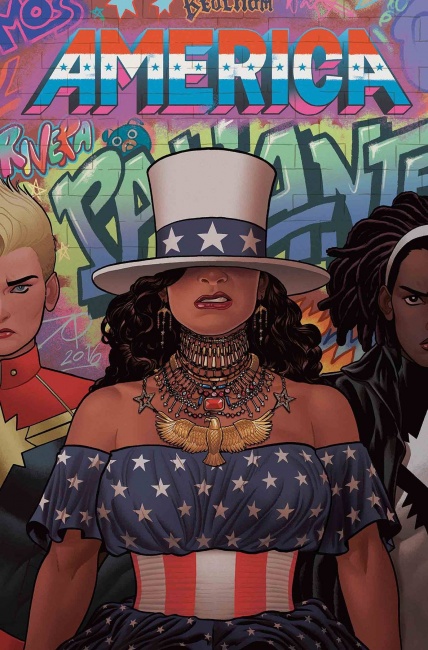 Maybe I'm wrong, I often am, but I don't think it's strictly a matter of they won't, and more like that they couldn't if they wanted to, and I really don't think they do. Not with the Miles Morales Spider-Man and Spider-Gwen set to get their own animated series on Disney XD this summer, and Ms. Marvel on a lot of people's wish lists for a series of her own*. And it would embarrass them (and humiliate their parent company) if, at this late date, Marvel tried to walk back
America
, their comic featuring lesbian Latina superhero America Chavez. Gina Rodriguez, star of the TV series
Jane the Virgin
, has announced she wants to play the character in a movie and it's gotten press in
The Daily Dot, New York Times, CNN, The Daily Mail
and
Washington Post
(among others). Issue #2 ships this week.
*Ms. Marvel already made an appearance on Disney XD's Avengers: Ultron Revolution. If you're wondering how they handled the fact she's a first-generation Pakistani-American Muslim... It didn't come up. Not because it was somehow deemed too "sensitive" for a children's animated series, but because none of the characters' religions and ethnicities are ever brought up. The Disney XD version of The Black Widow might as well come from Kansas.
The opinions expressed in this column are solely those of the writer, and do not necessarily reflect the views of the editorial staff of ICv2.com.