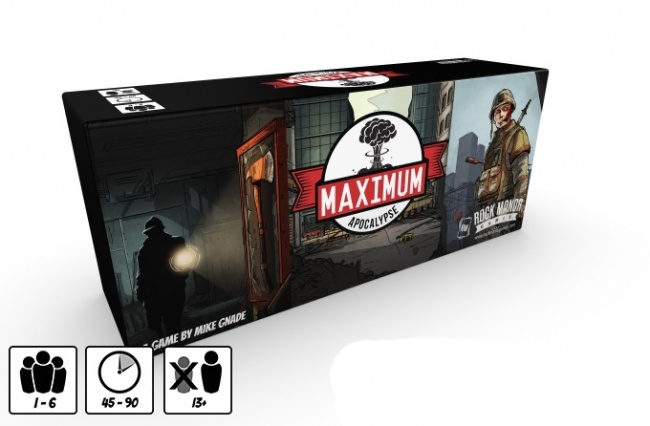 The world can end in many different ways in Rock Manor Games' new title
Maximum Apocalypse
, scheduled to release in 2018.
Though the cause of humanity's downfall in Maximum Apocalypse can take many forms—from zombie plague to alien invasion, or nuclear devastation to robotic takeover—the goal of the game remains the same. Over a series of scenarios, players must work together to accomplish their group goals, avoid starvation, and gather enough fuel to escape in their trusty van before the bad guys overwhelm them.
In the game, each player has a role with unique abilities, such as "Fireman" or "Hunter." Each character has their own Survivor Deck, which determines what they can do during the game. Thirteen campaign missions, combined with a random game map and four different monster decks provides replayability for the game.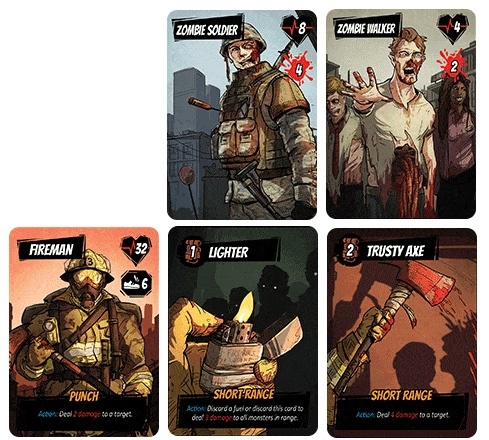 Maximum Apocalypse
includes 382 cards, 35 map tiles, 72 wooden tokens, 80 cardboard tokens, 8 dice, and a game board. The game is for 1 to 6 players, ages 13 and up, and each scenario takes about an hour to play. MSRP has not been set, but Rock Manor expects it to fall between $49.00 and $59.00.
Maximum Apocalypse was designed by Mike Gnade, the creator of Brass Empire (see "New Steampunk Deck Building Game"). The project was funded through a Kickstarter campaign that attracted $144,059 from 3,063 backers (an average of $47.02 per backer) heading into its final hours. Backer fulfillment is scheduled for May of next year, with trade release to follow. The game will be distributed through Hit Point Sales.
See the gallery for images of some cards and tiles from the game.