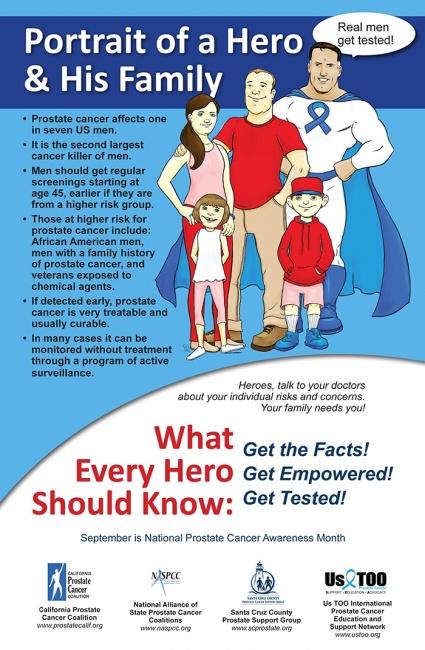 IDW Publishing will promote prostate cancer awareness with advertisements in their August titles.
The advertisement will run in 25 titles over the course of August, which is National Prostate Cancer Awareness Month. IDW is partnering with California Prostate Cancer Coalition, National Alliance of State Prostate Cancer Coalitions, Santa Cruz County Prostate Support Group, and Us TOO International Prostate Cancer Education and Support Network on the campaign.
"Although prostate cancer is the most common non-skin, male-specific cancer in the U.S., affecting one in seven men, the disease isn't on the radar for most men -- or women, who are often the health-care gatekeeper for their husbands, fathers and sons," said Chuck Strand, CEO of Us TOO International. "The objective of this comic book ad is to help raise awareness to everyone about the importance of prostate cancer screening and provide some basic facts about the disease."
The ads will appear in the following titles:
August 9
First Strike #1
GI Joe #9
Optimus Prime #10
Time and Vine #2
Teenage Mutant Ninja Turtles #73
X-Files #17
August 16
Rom vs. Transformers: Shining Armor #2
Clue #3
G.I. Joe: Real American Hero #243
Judge Dredd #5
Saucer State #4
Star Trek: Boldly Go #11
August 23
24: Legacy #5
Ghostbusters 101 #6
M.A.S.K.:Mobile Armored Strike Kommand #10
Micronauts: Wrath of Karza #5
Orphan Black: Deviations #6
Rom #14
Teenage Mutant Ninja Turtles Universe #13
Wynonna Earp: Season Zero #3
X-Files: Origins: Dog Days of Summer #3
August 30
Back to the Future: Time Served #23
Dread Gods #2
Kull Eternal #3
Transformers: Lost Light #9
Marvel ran a similar awareness program last year, partnering with The American Cancer Society on a series of variant covers commemorating National Prostate Cancer Awareness Month (see "Marvel Teams With American Cancer Society").