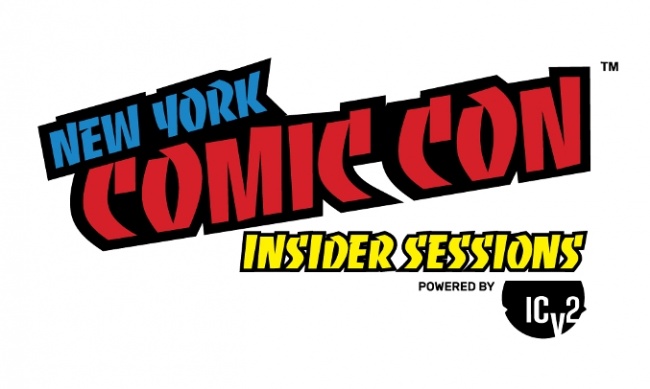 An ICv2 Announcement.
ComiXology CEO David Steinberger and Glenat CEO and President of the French Comics Association Jean Paciulli have been added to the speaker roster for the New York Comic Con Insider Sessions Powered by ICv2, planned for Thursday, October 5. Steinberger will reveal Secrets of Growth in the Digital Channel in a conversation with ICv2 and
Forbes
columnist Rob Salkowitz, while Paciulli will discuss Lessons from the European Market, where per-capita consumption levels are far above those in the U.S.
The full schedule of sessions, all scheduled for the River Pavilion in the Javits Center, is now:
1:00 p.m. Keynote Address: Ashley Eckstein
Known to
Star Wars
fans as the voice of Ahsoka Tano on
Star Wars: The Clone Wars, Star Wars Rebels
and
Star Wars: Forces of Destiny
, actress and entrepreneur, Ashley Eckstein, also founded Her Universe – the groundbreaking fangirl fashion company and lifestyle brand. Ashley has been widely recognized as a business woman and Fangirl trendsetter. She was recently chosen by Good Housekeeping magazine as one of their 25 Awesome Women for 2016. Her Universe is a proud licensee for Disney/
Star Wars
and Marvel, BBC /
Doctor Who
, CBS/
Star Trek
, Studio Ghibli as well as a growing roster of properties.
1:45 p.m. Measuring the Social Impact of Geek Culture: Rob Salkowitz
The audience for all things geek has been growing by leaps and bounds, blurring the lines between mainstream taste and fandom. Amid all the noise generated on social networks, how can publishers, licensees and licensors, and media companies identify the most engaged segments of their fan base and the content that delights them? Author, consultant and ICv2 and Forbes columnist Rob Salkowitz looks at some new tools for analyzing social media data and how they can help players in the geek culture industry make better, more natural connections with fans.
2:15 p.m. Lessons from the European Market: Jean Paciulli
Comics hold a significant and growing share of all books sold in France. What can we learn from the market penetration of comics in Europe, and what translates (and does not) in business and sales development in the USA? Are translation opportunities a way to grow new comics publishing in the US with "turnkey ready" titles and talent?
3:00 p.m. ICv2 Comics and Graphic Novel White Paper: Milton Griepp
This year is a year of rapid change in the comics business, and many are wondering what it means for the future. ICv2 CEO and industry veteran Milton Griepp will present his annual White Paper on Comics and Graphic Novel sales, summarizing recent trends and sharing insights based on 40 years of experience and all the analytical tools at his disposal.
3:30 p.m. Secrets of Growth in the Digital Channel: David Steinberger
ComiXology, an Amazon subsidiary, sees in their 10th year that personalization, "streaming", and a diversifying library of content are revealing new secrets about the comics consumer, on-the-rise properties, and the potential for growth. Join comiXology co-founder and CEO David Steinberger with ICv2 columnist Rob Salkowitz as they discuss the latest from the digital comics leader.
4:00 p.m. Understanding the US Comic & Graphic Novel Consumer Landscape - Who is Buying and Why: Kristen McLean
You've all heard that the wider market is finally catching on to what Local Comic Shops have known for years--readers are passionate about Comics and Graphic Novels. C/GNs are experiencing double-digit growth in the traditional side of the book market, and a whole new generation of readers is discovering this medium in a wide range of channels. But what do they look like? Where do they live? Are buyers at Comic Shops different than buyers at Indie Bookstores, and how do they both compare to buyers who get their C/GNs online? Join NPD Books' resident C/GN enthusiast and Executive Director of New Business Development Kristen McLean as she uncovers the landscape of today's Comic and Graphic Novel consumer through NPD Book's research, POS data, and trend reporting. Along the way she will get us thinking about the opportunities, challenges, and bright spots that will light the way for this market moving forward.
To register for the New York Comic Con Insider Sessions Powered by ICv2,
click here
.
The New York Comic Con Insider Sessions Powered by ICv2 are sponsored by comiXology, Dead Reckoning from Naval Institute Press, and Diamond Comic Distributors.
Dead Reckoning
DEAD RECKONING is a new graphic novel imprint from the Naval Institute Press launching in Fall 2018. With fiction and non-fiction ranging from the trenches of World War I to the deserts of Afghanistan to battles beyond the farthest stars, DEAD RECKONING tells stories that no one else can. DEAD RECKONING - For those who dare.
ComiXology
ComiXology, an Amazon.com, Inc. subsidiary, is a revolutionary, cloud-based digital comics service. With content from over 125 publishers as well as thousands of independent creators from around the world, comiXology provides an unrivaled library of comic books, graphic novels, manga and bandes dessinées. The company's first-in-class innovations include the exclusive Guided View technology which provides an immersive and cinematic reading experience and a monthly subscription service. ComiXology is based in New York City, with operations in Seattle and Los Angeles. For more information visit comixology.com and follow the company on Twitter, Facebook and Tumblr.
Diamond Comic Distributors
Diamond is at the nexus of comics and pop culture merchandise. Based in Hunt Valley, MD, DCD is the world's largest distributor of English-language comic books and pop-culture related merchandise, servicing thousands of specialty retailers worldwide. For more information, visit Diamond on the web at www.diamondcomics.com.