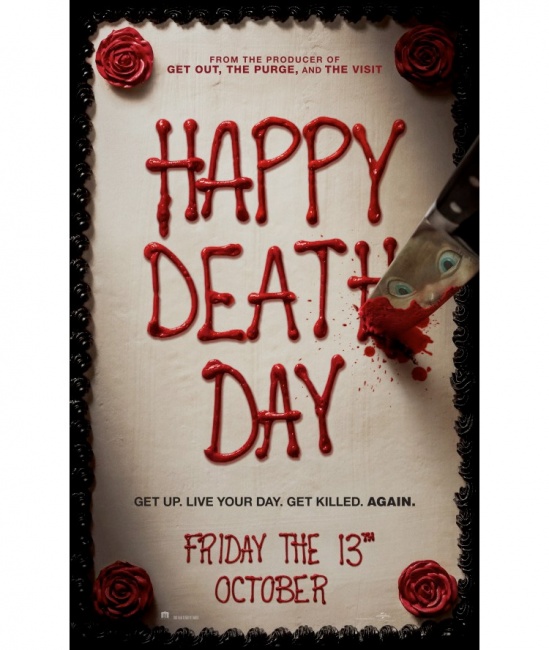 Blumhouse, which earlier this year scored mega-hits with the micro-budgeted horror films
, Split
and
Get Out
, has apparently done it again with
Happy Death Day
, which cost less than $5 million to produce, but easily took the box office crown with $26.5 million. The Jackie Chan-starring action film
The Foreigner
surpassed modest expectations, and the box office was off just 5% from the same weekend last year when
Girl on the Train
took the crown with a $24.5 million debut. While the adult-skewing biopic
Marshall
did fairly well in limited release, the biographical film about the creator of
Wonder Woman
,
Professor Marston and the Wonder Women
, crashed and burned, averaging just $600 per screen in 1,229 theaters.
Happy Death Day,
a
Groundhog Day
-like affair in which a woman must relive the day on which she Is murdered until she learns the identity of her killer, appears to be tracking much like M. Knight Shyamalan's
Split
and Jordan Peele's
Get Out
, which became mega-hits in spite of their tiny budgets. Obviously one of the big "success" stories of 2017 is overall strength of the horror film genre, which has also produced a couple of moderately-budgeted monster hits in
Annabelle: Creation
(produced for $15 million, and earned over $301 million worldwide) and
It
(produced for $35 million, with earnings of more than $630 million so far). Young people like to go the theaters and be scared en masse, which is one of the few encouraging signs for theater owners in an industry that appears to be witnessing a transition from public exhibitions to private streaming.
The audience for
Happy Death Day
skewed female (54%) and younger, with 63% of the crowd under 25. The film earned a "B" CinemaScore, which is a fairly good grade for a horror film, but down enough from
Get Out
to indicate that
Happy Death Day
won't come close to matching Peele's film's leggy $175.5 million domestic run—but since
HDD
has already made more than five times its cost domestically, it is already a solid hit.
Second place went to Dennis Villeneuve's
Blade Runner 2049
, which dropped 54% in its second weekend. Readers of this column know that I often maintain that a 54% second weekend decline is actually a big "win" for a heavily-hyped superhero film or action extravaganza, but there's a big difference between a Marvel film like
Guardians of the Galaxy Vol. 2
, which debuted with $146.5 million and dropped 55% to $65.3 million, and
Blade Runner 2049
, which bowed with just $32.8 million, and fell to $15.1 million in its second frame. With a major Marvel movie-like budget of $155 million, the
Blade Runner
sequel has an enormous distance to go just to break even.
Martin Campbell's
The Foreigner
, which stars Jackie Chan, is a medium budget ($35 million) action film that opened above expectations ($12.8 million), a debut that was well behind that of
John Wick's
$14.4 million bow in 2014, but, given the fact that
The Foreigner
has already earned $88 million overseas, the film's North American debut has to be seen as a positive.
The biggest horror film release of 2017,
It
, slid to number four in its sixth weekend of release as it earned $6 million to bring its domestic total to nearly $315 million
. It
should easily end up with a higher gross than
Suicide Squad
($325 million), and
Batman v. Superman
($330 million), and may even end up ahead of
Spider-Man: Homecoming
($333 million) here in North America. Overseas
It
has earned $315.7 million for a global total of $630 million, making it the ninth biggest release of 2017 so far (and by far the cheapest film in that rarefied company).
Weekend Box Office (Studio Estimates): October 13-15, 2017

Film

Weekend Gross

Screens

Avg./Screen

Total Gross

Wk#

1

Happy Death Day

$26,500,000

3,149

$8,415

$26,500,000

1

2

Blade Runner 2049

$15,100,000

4,058

$3,721

$60,578,387

2

3

The Foreigner

$12,840,000

2,515

$5,105

$12,840,000

1

4

It

$6,050,000

3,176

$1,905

$314,929,521

6

5

The Mountain Between Us

$5,650,000

3,259

$1,734

$20,502,922

2

6

American Made

$5,423,000

3,098

$1,750

$40,152,865

3

7

Kingsman: The Golden Circle

$5,315,000

2,982

$1,782

$89,652,040

4

8

The LEGO Ninjago Movie

$4,315,000

3,053

$1,413

$51,577,689

4

9

My Little Pony: The Movie

$4,000,000

2,528

$1,582

$15,513,434

2

10

Victoria and Abdul

$3,115,000

900

$3,461

$11,341,944

4
With the exception of the animated My Little Pony feature, which dropped 55% from its highly disappointing opening (likely sealing the fate of that animated franchise on the big screen), the rest of the films in the top ten suffered small declines from modest totals. The lone "modest hit" in the group is the comic book-based Kingsman: The Golden Circle, which has now made $286.7 million worldwide against a production cost of $104 million.

Stephen Frears' Victoria and Abdul, which has Judi Dench reprising her Queen Victoria role from Mrs. Brown, added 168 theaters to bring its total to 900, as it dropped just 25.3%, bringing its domestic total to $11.3 million. This paean to British Imperialism posted a decent $3,461 per-theater average, one of the few Oscar-type "adult dramas" to gain any traction so far in 2017.

Another potential Oscar movie, Marshall, the biopic about the first African-American Supreme Court Justice, Thurgood Marshall, did well in its initial limited release, earning $3 million from just 821 theaters for a $3,702 average.

Both Victoria and Abdul and Marshall did far better than Professor Marston & the Wonder Women, a biopic about the creator of Wonder Woman and his unconventional lifestyle. In spite of a stellar rating on review aggregator Rotten Tomatoes (87% positive), and considerable talent including writer/director Angela Robinson (Debs), and stars, Rebecca Hall, Bella Heathcote, and Luke Evans, Professor Marston & the Wonder Women imploded at the box office earning just $737,000 from 1,229 theaters for a pitiful debut average of just $600 per screen.

Is Professor Marston's immediate flameout the fate of "thoughtful" films in the era of "Netflix and chill," or is it some problem with Professor Marston & the Wonder Women itself? Certainly Patty Jenkins' Wonder Woman was the breakout hit of 2017 so far, but the gap between the public's interest in superhero films and biopics (even if there is some connection to superheroes) remains enormous.

Be sure to check back here next weekend as a wave of new movies descends on a becalmed box office. The new arrivals include the tragic forest fire-fighting saga Only the Brave, which debuts in 2,400 theaters, the climate-themed disaster film Geostorm, which opens on over 3,000 screens, plus Tyler Perry's Boo 2! A Medea Halloween (2,250 theaters), the Nordic Noir thriller The Snowman starring Michale Fassbender (1,800 theaters), and the religiously-infused Same Kind of Different As Me (1,250 theaters).