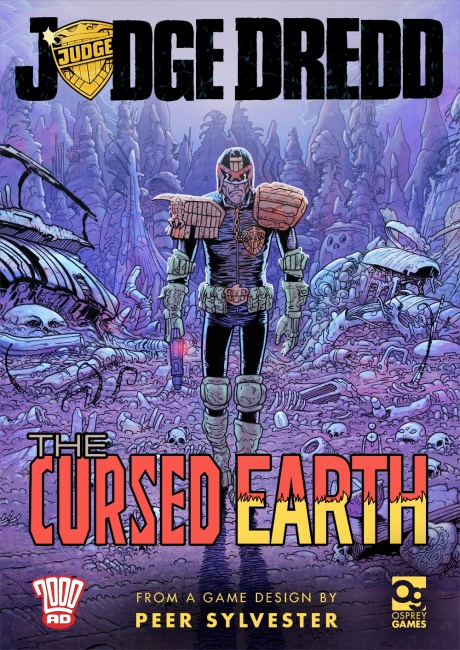 Osprey Games has acquired a license from Rebellion to produce a card game based on the iconic futuristic lawman Judge Dredd.
Judge Dredd: The Cursed Earth
will release in July.
Based on the Peer Sylvester game Lost Expedition (see "Osprey's 'Lost Expedition'"), Judge Dredd: The Cursed Earth sends a team of Judges from Mega City One into the rad wastes of the Cursed Earth. The Judges must contend with the dangerous land, radiation exposure, mutants, and even dinosaurs to recover a powerful object before anybody else can find it.
The game was developed by Osprey's Games Developer Duncan Molloy, pairing the game system from Lost Expedition with iconic characters from the 2000AD comics. All-new mechanics have been added, including radiation and psychic abilities, as well as a new storyline and new cards. Judge Dredd: The Cursed Earth can support solo, cooperative, and competitive play. It comes with 50 oversized cards, all featuring new artwork commissioned for the game, as well as the tokens and counters needed to play. Intended for 1 to 5 players, games take less than an hour to play. MSRP is tentatively set at $34.00.
Judge Dredd has been appearing in a number of new places of late, including a miniatures game from Warlord Games (see "New Line of '2000 AD' Miniatures and Games Announced") and an appearance in Steve Jackson's Munchkin line (see "'Judge Dredd' Joins 'Munchkin Apocalypse'"). EN Publishing announced a Judge Dredd RPG powered by the What's Old Is New (WOIN) system for release earlier this year. A television series inspired by the comic is reportedly under development (see "Judge Dredd to Declare 'I Am the Law' On TV?").