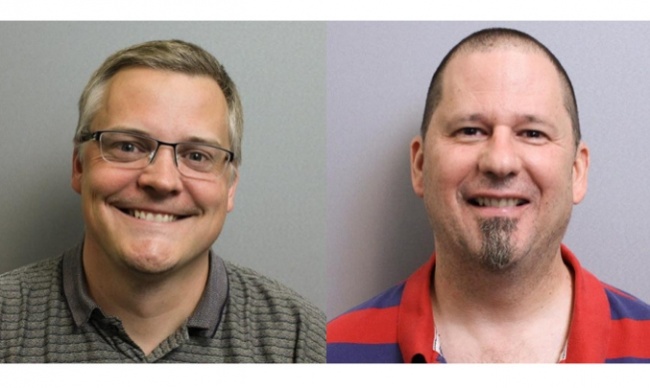 Earlier this fall, we visited the Roseville, Minnesota headquarters of game giant Asmodee North America and conducted a series of interviews with Asmodee North America CEO Christian Petersen and Asmodee CMO Steve Horvath. In Part 2 of this two-part first section of the interviews, on the State of the Market, we discuss growing new customers, the market's limits, and collectible games. In Part 1, we discussed the overall market, the proliferation of products, what's happening to shelf life, and how different channels contribute.
For the rest of our interviews with Asmodee execs:
ICv2 Interview: Asmodee Execs on the State of the Market, Part 1
ICv2 Interview: Asmodee Execs on New Distribution Policies
ICv2 Interview: Asmodee Execs on the ANA Consolidation, Part 1
ICv2 Interview: Asmodee Execs on the ANA Consolidation, Part 2
ICv2 Interview: Asmodee Execs on Diversity in Hobby Games
ICv2 Interview: Asmodee Execs on Counterfeiting
You talked about growing new customers. Do you see the different channels as having different roles? Online doesn't necessarily do that, as you mentioned. What about specialty retail or mass?

Petersen
: Mass and specialty retail are very different, but they do generate new customers, simply by the availability. The mass (when I say mass, I mean places like Target and Walmart and Amazon and so on) I don't think will ever replace the specialty hobby. But they may be the place that sells you the "razor" for many game types. The razor blades will be sold at the hobby retail stores.
A bit like the Catan base game versus expansions and extensions?
Petersen
: Absolutely correct. Get someone into
Catan
, and perhaps you have born a lover of
Catan
who wants all those expansions. This customer is going to spend a lot more in overall spend buying that whole
Catan
expansion lineup than just the core game they may have picked up in mass. We have three SKUs in Target right now, as an example, for
Catan
. We have the base game. We have the
5-6 Player Extension
. We have the
Seafarers Expansion
. There actually exists a pretty large wealth of expansions; there's a total of maybe 14 or 15 expansions for
Catan
.
Our job is to do a better job of pointing people towards a hobby game retailer universe where they can pick up these expansions, and hopefully meet some new friends they can play with. We also need to make sure that hobby game retailers understand this is an area of growth for them.
Are you seeing your sales in the hobby channel reflect that, that their mix of extensions and expansions versus core game is changing as the availability in chains increases?
Petersen
: I'm going to have to get back to you on that. Only just recently do we have detailed information about what's going into each store vis-a-vis our products. This is information that we want to use to help stores grow.
Right, because distributors were selling to chains and you might not even know that.
Petersen
: That is one reason. Historically, we have sold to many distributors and so it has been near impossible to get an understanding of what was really happening in the wild, what was working for one store, but not another. In working with Alliance, we now have a lot more information about what each store is carrying, how they are restocking and how we can help them create a product assortment that's going to really be successful for them. This is something that we're spending a lot of effort and time and thought on. With the Alliance deal, we are now able to have that information almost on a live basis so we can see what's actually happening in the market.
But the access to information traditionally in the hobby has been very limited, partly because when you have multiple distributors, you don't know if those distributors sell to the same store or not. You can have it buying three copies from one distributor and three copies from the other.
We did make some progress, in the last couple of years, trying to get that information. But it was still very challenging to get it in a proper and uniform way.
Are you seeing differences between the channels? Obviously, five years ago, there wasn't any mass channel for hobby games, or very little. What's happening now, in terms of the mix of your business between the different channels? What's growing fastest? Are there any that are not growing?
Petersen:
It's a difficult question because of the diversity of different brands and different game lines that we actually carry. FFG, for example, is very central to the hobby market and has very few SKUs, if any, in true mass. We have some broad market retailers, like Barnes & Noble, that will support it. They've grown and have done a very good job.
On the other hand, you have a studio like, say,
Catan
.
Catan
has really been a game that has graduated to the mass. We've seen a lot of growth there.
Catan
was pretty much at its limit, in terms of what it could do in the hobby market. But it's such a great introductory family game that taught so many people that games could be a little more complicated, and yet you get that complication back as a reward in fun and interesting decisions.
Catan
has done just phenomenally well in the broad markets.
You were talking primarily about the state of the market for board games. You're obviously in other categories: card games, miniature games, and now collectible games. Any differences that you're seeing in those different categories, in terms of health of the market or growth?
Petersen
: The whole idea of having a lot of SKUs being offered affects everything. Since the stores only have so much space, whether it's a blister pack, or whether it's a miniatures box or whether it's a board game box, the bloat of products affects all the categories, in my view.
You have a store who looks at, for example a miniatures section for Privateer Press, thinking "Does that section make me a good return? Do I get foot traffic in that section? Or should I put in another line of board games? Would that give me a better section?" Or vice versa. That's a consideration stores are facing frequently now.
There is a store limit now. It used to be capital requirements that would limit the amount of inventory hobby stores could take in. With the growth in the industry the last 10 years, that is no longer the case. Stores have been doing really well. It's not so much the capital anymore. It is, in some instances, but now it's actually physical space. Where are they going to put the 50 new boardgames that came in this week?
That's what you meant by "store limit," not number of stores, but the size of the store?
Petersen
: Yes, the actual store size. Obviously, going into a bigger store is not something that can be done nearly as quickly as putting a new shelf up in the empty wall that you used to have. Hopefully the market will have sufficient capital over the next 3-5 years to see our stores grow into larger, even more attractive, spaces (perhaps with food).
So those other categories are going to have those effects too. The collectibles market for example, my feeling is that the category is in pretty good shape.
Magic
, from my understanding, is seeing a little bit of softening here in the last year or so, but the other times we've been in that space, it was a little bit like the bubble that we may be seeing in the board game space now. There were just so many entrants. There was a new collectible game every month or every week.
That was early to mid-00s, right? You were in the collectible space back then?
Petersen
: Yeah. We did a
Game of Thrones
collectible card game back in the 00s, and
Call of Cthulhu
. Lots of competition for the collectibles space then.
We have a great relationship with Lucasfilm. They really wanted to do something in the collectible space. After a few years, we felt that space was open for something exciting and different.
We weren't seeing a whole barrage of investment in new products in that space that had been there prior, so we felt we could try to create something that was a bit different, a whole new kind of material, those colored dice in Destiny. We felt that there was something to be done there in the collectible area. We released
Destiny
last year, which has been tremendously successful.
Not as glutted in the collectible side, in other words?
Petersen
: Not as glutted, yeah. These things come in cycles. The collectible space seems an OK space for the moment. Overall, since I don't have access to the actual aggregate data on
Magic
, I can't speak for the retail side on whether this space is up or down overall. I have a feeling it may be a bit down. But in terms of opportunity in the space, I think it's currently strong.
It felt to us like it was down in the first part of the year. We'll see how the year ends up overall, whether it was just the first part of the year.
Horvath
: Just a clarifying note on that. When he said that Lucasfilm asked us to explore that space, it's because of market research they had showing that
Star Wars
fans were looking for a collectible game. That's what spurred that overall.
Petersen
: We didn't want to do just another
Star Wars TCG
. There had been a number of them. I didn't feel that would be that exciting to the public, just to have another TCG come out. It had to be something a bit different; it had to be something that has a bit of novelty to it. Obviously there are cards in
Destiny
, but what was really interesting was we took this new technology and we were able to produce really high quality, full color images on the dice, made with such quality where you can't even scrape the printing off. (You can, if you try really hard. But it's hard to actually damage those things.) That was a really key part of enabling that game.
You kind of answered the next question. Where do you see the biggest opportunities, in terms of product category, the type of customer, channel for overall market growth? In other words, where are the places that the market is going to grow in the next few years?
Petersen
: I don't think this is exactly what you're looking for, but for Asmodee North America, where the growth is really going to come from is for us to start gathering and sharing a lot more information with the retail base about what we think is working, what we are seeing work elsewhere, how we can partner up with them with information and actual, objective data to help them grow their business.
Ultimately, if the retail stores grow their business, they'll be able to invest more in more demonstrations, more community outreach, etc. We are focusing a lot on really trying to understand what the brick-and-mortar hobby retailer (and online retailers, for that matter) need to succeed. It's easier to stock everything when you're an online retailer; it's harder to differentiate, except for price and availability. That is not the case for the physical stores.
These community centers that we have all over the United States, these two to three thousand hobby game stores, we want to help them grow and help them become more successful. That will grow the industry.
Which exact category, which
flavor du jour
is going to succeed in the near future? What'll be the next hot thing?
Speaking for Asmodee, we have pretty fascinating things in the oven. A few things that I think will even create an entirely new category of games… But I'm not going to talk about that until next year. [laughs]
Click here
to go to the next interview.