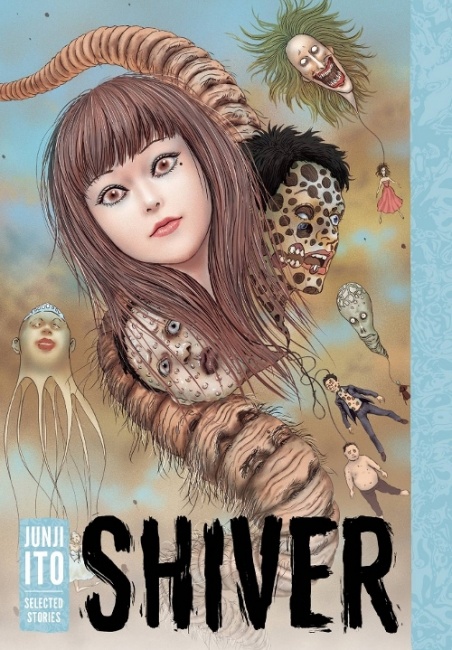 Shiver HC
Publisher: VIZ Media
Release Date: December 19, 2017
Price: $22.99
Creator: Junji Ito
Format: 396 pgs., B&W, Hardcover
ISBN: 978-1-4215-9693-8
Age Rating: Young Adult
ICv2 Rating: 5 Stars out of 5
Containing mostly new short stories by modern horror manga master Junji Ito,
Shiver
is a welcome addition to VIZ's expansive catalog of Ito's works and diverse enough to appeal to a wide variety of manga and comics enthusiasts.
Selected and arranged by Junji Ito himself,
Shiver
represents Ito's most personal, most introspective collection of manga to date. Organized around nine short stories and one bonus previously unpublished story,
Shiver
also contains afterwords by Ito and preliminary story notes and sketches for each piece.
Apart from "Painter," which also appears in VIZ's 2016
Tomie
omnibus,
Shiver
should naturally be compared to Ito's other short story volume
Fragments of Horror
, published by Viz in 2015.
Shiver
is a brilliant follow-up—just as inclusive, perverse, and terrifying as
Fragments
. Whereas the title story "Shiver" was provided for audiences as part of VIZ's
Halloween Comics Fest
promotion, it loses none of its potency as part of this larger collection.
Shiver
is a doorway into both personal, psychological horror as well as a gateway into monsters and terrors from beyond.
For librarians,
Shiver
is the perfect companion to
Fragments
and both should be part of any serious manga collection. Retailers should not ignore Ito's value either—
Shiver
serves as a perfect introduction for
Uzumaki
,
Tomie
,
Gyo
, or any one of Ito's other solo long form manga.
--Nathan Wilson