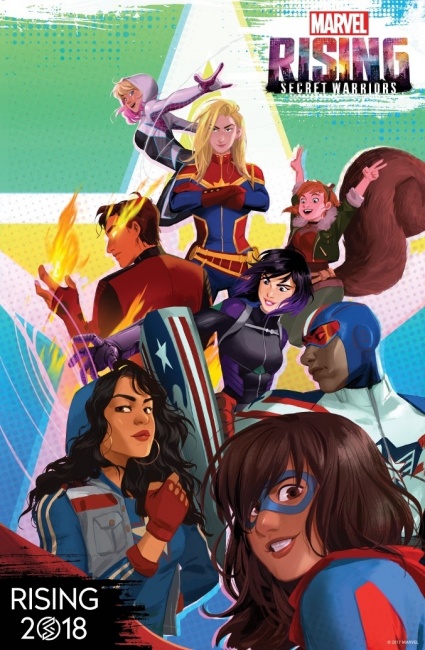 Marvel will launch a new property featuring a diverse teen superteam via animation shorts and a feature, the company announced. The new animation franchise,
Marvel Rising,
will launch in 2018 with six four-minute digital shorts featuring Spider-Gwen with her new secret moniker, Ghost-Spider, and a full-length animated feature.
The team is drawn from recently introduced or modified characters, many of which became popular with audiences new to Marvel. The team features seven female characters, three male, and one dog (Lockjaw), an unheard of mix.
The initiative has similarities to a successful DC program,
DC Super Hero Girls
, which like
Marvel Rising
targeted a relatively new audience for the company's characters and launched with digital video shorts.
Marvel SVP of Animation & Family Entertainment Cort Lane described the positioning. "Marvel characters are so relatable because they live in our world and face the same challenges we do," he said. "So I'm very excited that our Marvel Rising team of heroes is so inclusive, reflecting characters with different backgrounds, particularly a set of strong female leads that our young audience can connect with."
The shorts and OVA will feature a "visually distinct animation style," Marvel Director of Content & Character Development Sana Amanat said in a statement.
The scripts were written by Mairghread Scott. The feature, Marvel Rising: Secret Warriors, is exec produced by Marvel CCO Joe Quesada, President Dan Buckley, plus Cort Lane and Eric Radomski; co-executive producers are Stan Lee, Sana Amant, and Marsha Griffin. Alfred Gimeno was supervising director.
The voice cast and characters were also announced:

Kathleen Khavari – Kamala Khan/Ms. Marvel
Milana Vayntrub – Doreen Green/Squirrel Girl
Dove Cameron -- Gwen Stacy/Ghost Spider
Chloe Bennet – Daisy Johnson/Quake
Kamil McFadden – Rayshaun Lucas/Patriot
Tyler Posey – Dante Pertuz/Inferno
Cierra Ramirez – America Chavez
Dee Bradley Baker – Lockjaw/Tippy Toe
Ming-Na Wen – Hala the Accuser
Booboo Stewart – Victor Kohl/Exile
Kim Raver – Carol Danvers/Captain Marvel

No word on any comics or graphic novels or on distribution of the feature at this point.

Marvel released the featurette below.