Confessions of a Comic Book Guy is a weekly column by Steve Bennett of Super-Fly Comics and Games in Yellow Springs, Ohio. This week, Bennett shares news about the Hoopla digital comics service for libraries, and looks at two recently announced animation projects.

While I've repeatedly written about the streaming service Hoopla (see "Confessions of a Comic Book Guy--Why Digital Didn't"), an ICv2 piece from July ("Fantagraphics, Lion Forge, Titan Comics Join Hoopla") does a far better job of succinctly summing up what it is and what it does than I ever did. So instead of even trying I'll just use quotes from it, like this one which explains "Hoopla digital has deals with more than 1,500 public library systems in North America." And then there's this one, "Hoopla's comics catalogue already includes more than 10,000 comic titles from nearly 70 publishers, including DC Comics, Image Comics, Dark Horse Comics and Valiant Entertainment."

Marvel has always been conspicuously absent from that list of publishers, but that's going to change, according to Variety, which reported that 260 Marvel collections and graphic novels would be added to the service. Noticeably missing are any individual issues, even though most publishers make theirs available, usually the week of their release. Hopefully, they will come later, because while collections and graphic novels are great, readers still have to start their reading somewhere, and the so-called "singles" are a really good place to do that. Which is important because as Geoff Gerber, president of Lion Forge said, "Libraries are one of the first places that people fall in love with comics."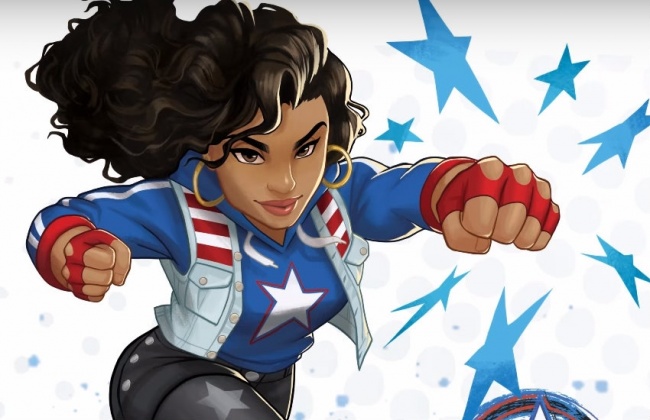 As previously established, I'm more or less immune to surprise but I have to confess I was genuinely surprised when I discovered gay Latina superhero America Chavez was going to get animated (see "
Marvel Launches New IP with Animation
"). I mean, with its active racial and ethnic inclusivity and a predominantly female cast of heroes,
Marvel Rising: Secret Warriors
is already a pretty surprising enterprise. But in spite of the fact that LGBT characters have been appearing on a number of current animated shows (
Steven Universe
,
Star Vs. The Forces of Evil
, etc.), I still thought it still "too soon" for there to be a gay superhero in a kid's cartoon. Not surprisingly, once again, I was wrong.
While this is unquestionably a big deal, I'm actually more interested in the rest of the movie's characters, which includes not just Squirrel Girl but also Ms. Marvel and her animal friend Lockjaw. And as someone who thinks entirely too much about these sorts of things, I am greatly gratified that "Spider-Gwen" will finally be getting a proper superhero name, even if it is Ghost Spider. I know "Spider-Gwen" was just the title of her comics and inside them she's addressed as Spider-Woman. The same way I know you stand on a slippery slope when you start calling a superhero name "silly". But as someone who was reading comics when Gwen Stacy fell to her death, I've always found the name particularly grating.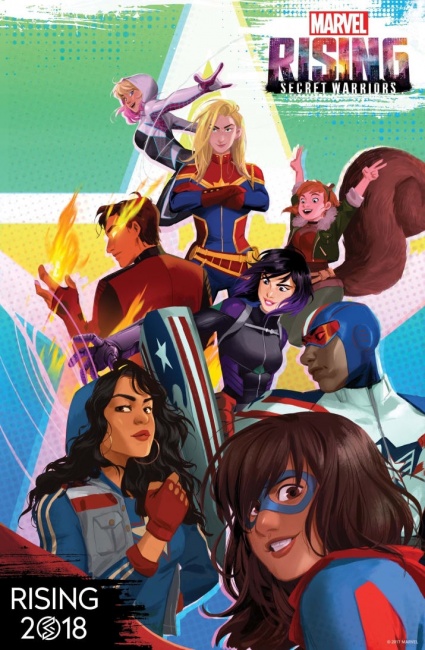 Most of the online reactions to
Marvel Rising: Secret Warriors
ranged from neutral to positive to ecstatic. Though there was the inevitable backlash (if a single story on the
One Angry Gamer
website constitutes a backlash, "
Marvel Rising Goes Full SJW And Some Fans Are Perturbed
"), it's boilerplate stuff, like anyone who likes these "Social Justice Warrior" heroes are "pseudo-fans," or that reflecting reality is "propaganda." Instead of refuting it, I'll just post a piece by Kaila Hale-Stern which appeared on
The Mary Sue
website: "
Dear Fanboys, a Diverse, Female-Led Marvel Animated Series Is Not About 'SJWs' and 'PC' Culture
."
But the thing Those Opposed never seem to grasp is this kind of initiative isn't about social justice; it's about making money. It's a diversity-themed brand that directs merchandising and programming at the traditionally underserved audiences of girls and people of color. It's also Marvel's answer to the DC Super Hero Girls line which has earned many dollars for parent company Time-Warner. And I expect the existence of the
Marvel Rising: Secret Warriors
movie probably has something to do with the fact that the DC Super Hero Girls have an animated series coming to the Cartoon Network in 2018.
Yesterday there was another announcement about an animation deal for a female hero that was all over the Internet (see "
Noelle Stevenson Showrunning 'She-Ra,' 'Captain Underpants,' More from Netflix
") like the
Forbes
website which had the piece, "'
She-Ra' Returns As DreamWorks Announces Six New Netflix Toons
." Also among those six shows is one that should be of interest to comic book fans of a certain age,
The Harvey Street Kids.
It's another series featuring girls, specifically Harvey Comics Littles:
Little Audrey,
Little Lotta
and
Little Dot.
In this iteration, they've been reimagined as Harvey Street's "self-appointed guardians and the world's bestest BFF's." While there's been some fairly recent activity in the Richie Rich and Casper franchises, it's been a very long time since anyone has paid any attention to these characters. Here's hoping that comic books will follow.
The opinions expressed in this column are solely those of the writer, and do not necessarily reflect the views of the editorial staff of ICv2.com.