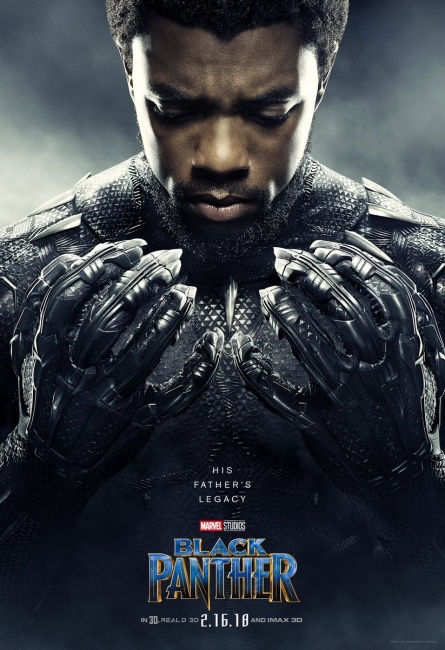 Ryan Coogler's
Black Panther
, the eighteenth film in the Marvel Cinematic Universe, singlehandedly revived a sagging 2018 box office with a massive $192 million 3-day opening, [Ed. Note:
Black Panther's
final weekend box offce has been adjusted to $201.7 million] the second best debut in MCU history, trailing only
The Avengers'
$207.4 million.
Black Panther
accounted for nearly 75% of all ticket revenue in a weekend in which the total of the top 12 films soared 59.3% over the same frame last year when
The LEGO Batman Movie
topped the charts for the second weekend in a row with $32.7 million.
The success of the
Black Panther
is the latest triumph for Marvel Studios, which took chances both on the talented young director Ryan Coogler, who had just two films under his belt (
Fruitvale Station
and
Creed)
, and on producing the first major superhero film with a nearly all African-American cast. Marvel didn't play it safe in its talent choices or on any aspect of the production, spending a reported $200 million on the film, bets that have paid off handsomely. Given its record of successes the "Marvel" brand has to be considered the "Gold Standard" in today's Hollywood.
Black Panther's
triumph has also solidified the importance of the Presidents' Day weekend, as the starting point for "blockbuster season." What used to be, for movie releases anyway, a relatively quiet first quarter, has now become a building crescendo of blockbusters that begins in February and reaches full force in March, which this year will see the release of
A Wrinkle in Time
, the
Tomb Raider
reboot,
Pacific Rim Uprising
, and
Ready Player One
on consecutive weekends.
Black Panther
, which earned a massive $47,717 per venue, currently has the highest rating ever for a major studio superhero film on review aggregator Rotten Tomatoes (97%), and received a coveted "A+" CinemaScore from audiences that skewed male (55%) with 61% over the age of 25. African-Americans made up 37% of the audience (they typically account for about 15% in other superhero film debuts), while Caucasians accounted for 35% of the crowd with Hispanics at 18%. Given the
Black Panther's
excellent CinemaScore and the relative lack of major mainstream blockbusters debuting in the next few weeks (until Ana DuVernay's
A Wrinkle in Time
bows on March 9),
Black Panther
should end up north of $400 million in domestic earnings, though the pent-up demand (especially among the underserved by superhero films African-American audience) and buzz around
Black Panther
might have made the film more "front-loaded" than the typical Marvel film.
The box office records that the
Black Panther
has set (not necessarily adjusted for inflation) are almost too many to mention. Among the most important are the #1 February opening ever ($192 million, eclipsing
Deadpool's
$132.4 million), best President's Day weekend total ever (an estimated $218 million, besting
Deadpool's
$152.2 million); best solo superhero launch ever; and the biggest non-sequel launch of all-time.
Overseas
Black Panther
earned $169 million to bring its 3-day global total to $361 million. Coogler's film is yet to open in China, Japan, or Russia, but don't be surprised if Black Panther does the majority of its damage in North America, a pattern that is typical of superhero films that introduce relatively new characters to the world audience.
Weekend Box Office (Studio Estimates): February 16-18, 2018 [Updated 2/19]

Film

Weekend Gross

Screens

Avg./Screen

Total Gross

Wk#

1

Black Panther

$201,797,000

4,020

$50,198

$201,797,000

1

2

Peter Rabbit

$17,600,000

3,725

$4,725

$48,572,542

2

3

Fifty Shades Freed

$17,320,000

3,768

$4,597

$76,513,455

2

4

Jumanji: Welcome to the Jungle

$7,925,000

2,800

$2,830

$377,603,565

9

5

The 15:17 to Paris

$7,620,000

3,042

$2,505

$25,367,717

2

6

The Greatest Showman

$5,070,000

1,936

$2,619

$154,448,356

9

7

Early Man

$3,183,000

2,494

$1,276

$3,183,000

1

8

Maze Runner: The Death Cure

$2,605,000

1,892

$1,377

$54,085,126

4

9

Winchester

$2,195,000

1,479

$1,484

$21,825,179

3

10

The Post

$2,000,000

1,050

$1,905

$76,609,372

9
Sony's live action/hybrid Peter Rabbit dipped just 31% as it earned an estimated $17.3 million over the 3-day weekend. Targeting young children, Peter Rabbit proved to be a rather effective bit of counter-programming this weekend, as was the female-centric Fifty Shades Freed, which dipped 56.1% from its #1 opening last week, earning $16.9 million in its sophomore frame as it drove its domestic cumulative to $76 million.

Sony's Jumanji: Welcome to the Jungle earned nearly $8 million over the 3-day weekend to drive its domestic total to $377. 7 million as it became the studio's second biggest domestic hit (not adjusted for inflation), trailing only Sam Raimi's Spider-Man ($403.7 million).

Clint Eastwood's 15:17 to Paris dropped 38.8% from its relatively small second weekend total, adding $7.7 million to bring its domestic total to $25.4 million. The $30 million production has only made $10 million overseas, and still has a long way to go to make into the black.

Aardman Animation's stop-motion feature Early Man debuted weakly in seventh place earning just $3.2 million from nearly 3,000 theaters. Opening weekend audiences skewed slightly male (51%) and very much older (62% over 25), and they gave the film a mediocre "B" CinemaScore, which, alas, does not bode well for its prospects.

The YA novel adaptation Maze Runner: The Death Cure continued its disappointing domestic run, earning just $2.5 million in its fourth weekend. The $62 million production has earned just $54 million in the domestic market, but has more than made up for that overseas where it has brought in $205 million.

The faith-based Biblical movie Samson also posted a weak debut, earning just $1.9 million from 1,250 theaters.

Be sure to check back here next weekend to see how Black Panther fares against a trio of new films including the R-rated, Natalie Portman-starring science fiction horror film Annihilation (2000+ theaters), the R-rated action comedy Game Night starring Jason Batman (3,300 venues), and Every Day, an adaptation of a YA fantasy romance novel (1,650 screens).