USAopoly has shared images and details on two high profile licensed games coming in 2018:
Trivial Pursuit: World of Harry Potter Ultimate Edition
and
Fallout Chess.
Trivial Pursuit: World of Harry Potter Ultimate Edition tests the knowledge of Wizarding World fans with 1,800 questions from all 8 Harry Potter films. Categories include: Slytherin House, Death Eaters and the Dark Arts; Objects & Artifacts; Animals, Magical Creatures and Magical Beings; Witches, Wizards, Ghosts and Muggles; Hogwarts, Other Locations and Transportation; and Spells, Potions and Other Magic. Players will move around the board with custom sculpted House Crest movers. The is for 2 or more players, ages 8 and up. Release is planned for Summer. MSRP is $49.95.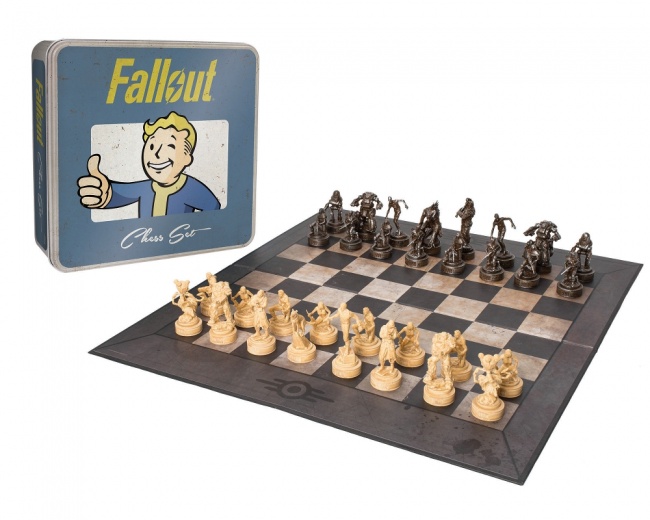 Fallout Chess
features game tokens featuring 32 heroes and villains from the Wasteland of the
Fallout
video games. Inspired by Vault-Tec design themes the set appears to have been scavenged from the post-nuclear war dust heap – the game board appears tarnished and the vinyl pieces have a weathered look. The game is for 2 players, ages 7 and up. MSRP is $69.95. Release is planned for March.
USAopoly recently unveiled two other upcoming games: Privacy (see "Expose Friends' Darkest Secrets in 'Privacy'") and Deadpool vs The World (see "Move Over 'CAH,' Deadpool Has a Brand New Game").